In this post, we will have a look at the best Gym Sneakers. When you are hitting the gym and crushing your fitness goals, having the right pair of sneakers can make all the difference. Not everyone puts a lot of effort into it, however, and there are plenty who just go for what looks good. But your gym footwear is more important than you'd think.
Imagine sprinting on a track with shoes that lack proper cushioning or weightlifting without the right support under your feet over the long term. It's a recipe for discomfort and potential injury over time. Proper footwear is a must, and here is a list of the best gym sneakers to help you 'out.
Best Gym Sneakers for Your Workout
You don't have to, and you should not go for just any pair of sneakers while working out, as a wrong pair could lead to pain or even injuries in some cases. Therefore, we have compiled a list of the best gym sneakers out there, which you can read below.
1. Nike Metcon 8 For Women
The Nike Women's Metcon 8 is a gym game-changer that can improve your training experience like nothing else. The Metcon 8 comes loaded with features that make it perfect for regular workouts, cross-training, strength training, and high-intensity interval training.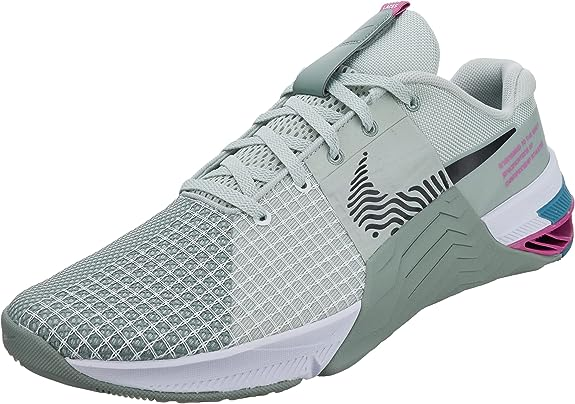 Its wide and flat heel, coupled with the robust rubber sole, provides plenty of stability and support for your every move during those periods of intensity. These sneakers also come with Nike's signature React Foam cushioning to keep things risk-free during high-impact exercises.
2. PUMA Men's Tazon 6
The PUMA Tazon 6 is an excellent fit for those who are regularly involved in running, cardio training, and light-to-moderate weightlifting. Its stable cushioning and impact-absorbing EVA heel are ideal for running sessions and intense cardio.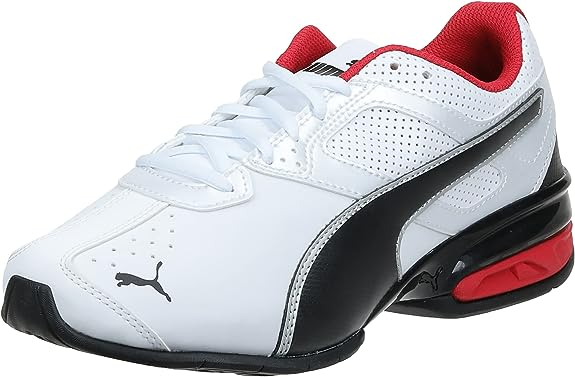 The Tazon 6 also does a lot for comfort thanks to its reliable padding and streamlined design. That, combined with its comfortable synthetic leather upper and midfoot saddle, makes the sneakers firmly fit yet very easy on your feet.
3. Ryka Women's Influence Cross Trainer
Ryka is one of the most influential names in women's active footwear. Their Influence cross-trainers are highly recommended for women who regularly work out and engage in moderately intense training regimes.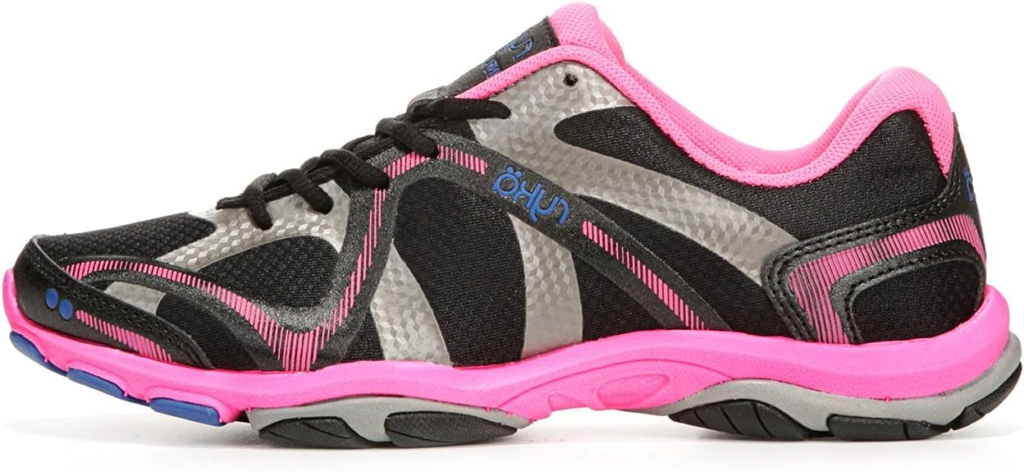 With a narrower heel, roomier toe, and softer cushioning, this shoe provides the perfect balance of support and comfort. The comfort and support are backed by the N-Gage energy return foam, which cushions each impact while retaining its shape. There's a lightweight EVA midsole for added soft cushioning as well.
These cross-trainers are specifically constructed for women's foot shapes; hence, fitting will never be an issue.
4. Reebok Men's Lifter PR II Cross Trainer
If you are into heavy lifting, you are going to love Reebok's Lifter PR II. Designed with your strength training needs in mind, these cross-trainers are the best gym sneakers for lifting. They will help you through everything, starting right from your lifting form.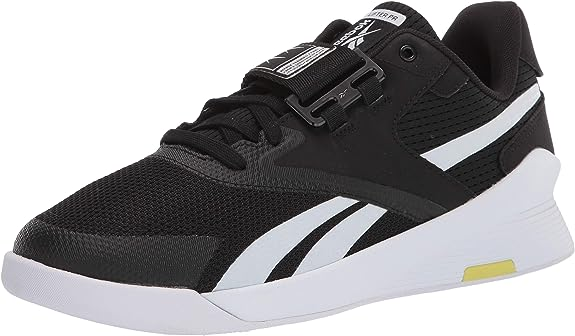 The raised heels of these trainers bring the stability that you need to maintain proper form while squatting, deadlifting, or powerlifting. There is an EVA midsole for cushioning to keep the weight away from your feet. It is also very lightweight and adds no bulk to the shoes.
5. New Balance Women's 608 V5 Cross Trainer
The New Balance Women's 608 V5 Cross Trainer is best for active women who are regularly working out. While they are not the best choice for lifting heavy weights, you can rely on them for pretty much everything else.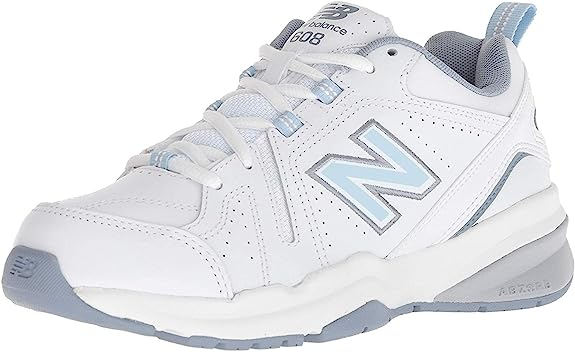 These trainers have special foam inside that keeps your feet comfy and supported. Underneath it is soft cushioning that comforts your feet throughout your workouts so they don't get tired or sore. The next layer has an oversized ABZORB heel crash pad that does a great job at impact absorption and keeps things safe and smooth.
6. New Balance Men's 623 V3 Cross Trainer
New Balance Men's 623 V3 Cross Trainer is an all-around shoe that provides comfort, support, and style for every activity, from regular cardio to heavy gym.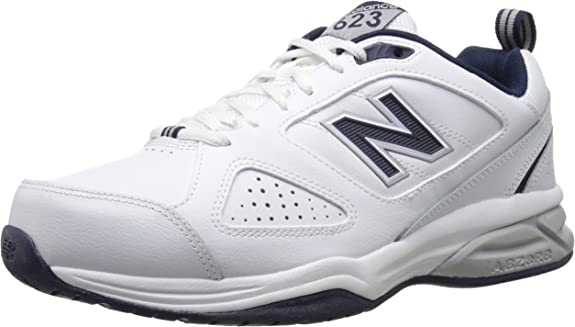 These training shoes are all about keeping you comfortable when you're on the move. The ABZORB cushioning in the midsole of these shoes is built to absorb impact and prevent discomfort from working out. Underneath, there is an EVA foam footbed and a light injection-molded EVA foam midsole for flexibility and comfort. New Balance tops it off with a reinforced collar foam that keeps your feet comfortable and ease through all-day wear.
7. New Balance Women's Dynasoft Nergize V3
From everyday activities to long gym sessions, the Dynasoft Nergize is all you need as a strong, moving woman. These trainers take perfect care of your comfort while you are at it, thanks to its Dynasoft midsole. The softness almost feels luxurious, even while you are sweating your life out. Your feet wouldn't relate to that, thanks to the shoes' breathable synthetic air mesh upper. The NB Memory sole insert takes care of the cushioning and softness.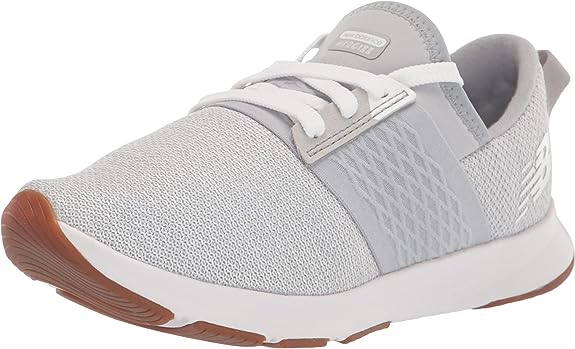 The shoes are pretty durable, too and would last you a good while.
8. Skechers Men's GOrun Consistent
The Skechers GOrun Consistent are one of the best gym sneakers for all your cardio, running, jogging, and heavy workouts. Skechers are usually pretty comfortable to wear, and the same is the case here, starting from the GoRun's breathable upper mesh.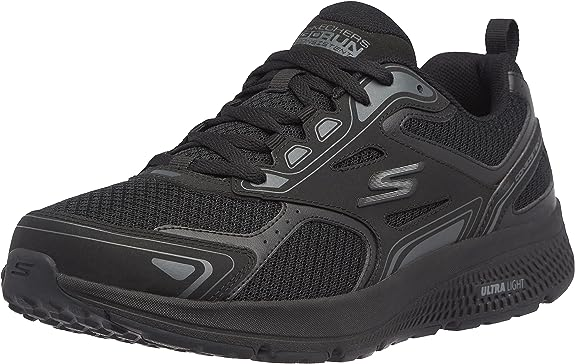 But the real magic is in their Goga Mat cushioning that makes you feel like you're stepping on clouds. Even while you are close to passing out while doing mountain climbers, it is partnered with a midsole ULTRA GO cushioning to provide comfort like never before.
Things to Consider When Buying Gym Sneakers
Here are some things you need consider when buying Gym Sneakers:
Fit and Comfort
The first rule of gym sneakers: they need to fit like a glove. A snug yet comfortable fit ensures your feet stay safe and comfortable during those intense workouts. A bad fit can lead to discomfort, blisters, and even injuries potentially.
Support and Stability
Solid support and stability are like your safety net when you're working out. Especially while lifting heavy weights or engaging in high-impact activities. Look for sneakers that offer proper arch support and heel cushioning to keep you standing strong.
Cushioning and Impact Absorption
You and your feet will absolutely need cushioning during those jumps, squats, and runs. Proper cushioning doesn't just make your steps softer; it also absorbs the shock from each landing, sparing your joints unnecessary strain.
Traction and Grip
Traction and grip might not sound as exciting as flashy designs, but they're essential for preventing slips and falls. A good pair of gym sneakers should have a sole that's designed to grip all kinds of surfaces. More than just avoiding embarrassment, it can help prevent unfortunate gym accidents, too.
Durability
Gym time equals sweat, movement, and wear and tear. Your sneakers should be up for the challenge like you are. Durable materials and solid construction ensure that your chosen pair won't give out after a few weeks of hardcore training.
Final Words
Gym sneakers are specially designed to provide the comfort, stability, and performance you need while sweating it out. Whether you're lifting weights or doing cardio, the right pair of sneakers can enhance your experience and help you push your limits. That's what it's all about, after all.
Doing better, pushing further, and getting stronger. And you will need the help of a good pair of sneakers to stand your ground while doing so. This list of best gym sneakers has everything you need, be it for running, lifting, cross-training, or more.