Here's a guide to black tie attire for men to explain all the whats, wheres, and hows of it. Formal events and gatherings always have a sense of anticipation and excitement to them. The sophistication and elegance in the air on such occasions can be overwhelming for some.
The only way to tackle it is by taking it in and becoming a part of it. The dress codes for such events usually set them apart from everything else.
A uniform and sophisticated dress code paints the room with grace and charm. And nothing screams 'grace and charm' more than the black tie attire.
When to Wear a Black Tie Attire?
Black tie attire is exclusively for extra special events. You might not find someone gracing it at their kid's birthday party. It's when the occasion demands nothing less than suave sophistication and elegance. Think of events like award ceremonies, formal weddings, exquisite banquets, high-class dinners, etc.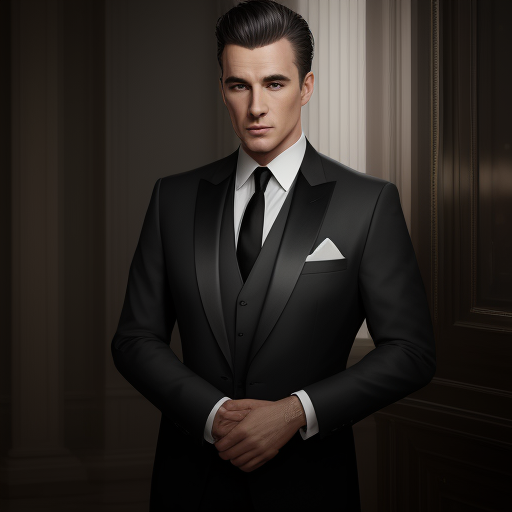 Events and organizers usually notify the attendees beforehand about the dress codes. And if it says 'Black Tie' or 'Black Tie Optional', you better start preparing yourself to dress up like an A-lister attending an award ceremony.
Do not dress up in a black tie attire unless specified under any circumstances. Being overdressed can be an issue in casual settings, and you would certainly look out of place. You can refer to this guide for ideas of a smart casual attire.
The Different Elements Of Black Tie Attire
Assuming your answers to why and where to wear a black tie ensemble are answered, it's time to go through what comprises it.
Remember, this dress code does not leave a lot of room for freedom. Hence most of it is supposed to be followed as is. While there are several options and choices, the basic rules must be strictly followed.
The Shirt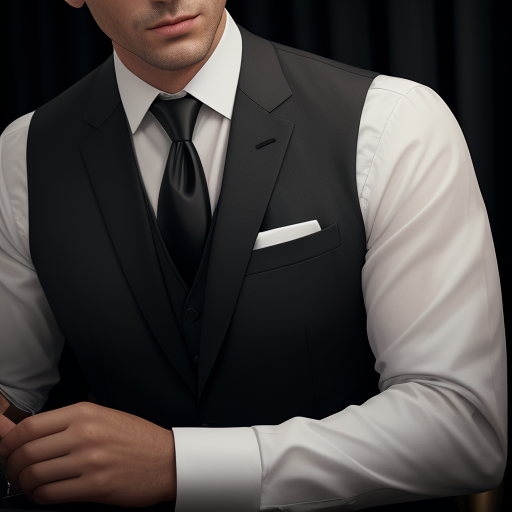 A classic white dress shirt is among the absolute basics of the black tie attire and also the epitome of the grace and simplicity that it is all about. It's a building block with which you lay the foundation for everything else to build up.
Colors
You can only go for the pure and pristine white in this dress code. It is non-negotiable, and you shouldn't even consider any other color if an event says 'Black Tie' in its dress code.
Collar Style
There are two classic options to go for in terms of collars; wing or turndown.
The wing collar is characterized by its distinct upward-pointing tips. It has a sense of vintage charm and class to it.
The turndown collar is more modern but without compromising the formality aspect of the dress code.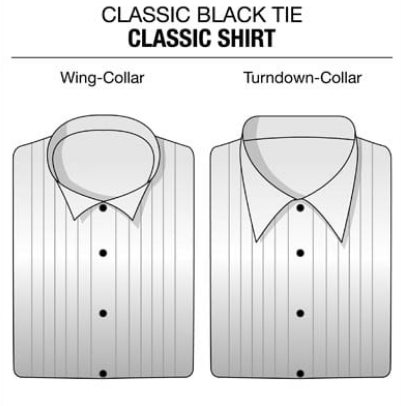 Cuffs & Cufflinks
The cuffs of a black tie dress shirt are an integral component that can elevate the overall look. French cuffs or double cuffs, are the perfect choice for a black-tie event. Do make sure to secure them with classy cufflinks.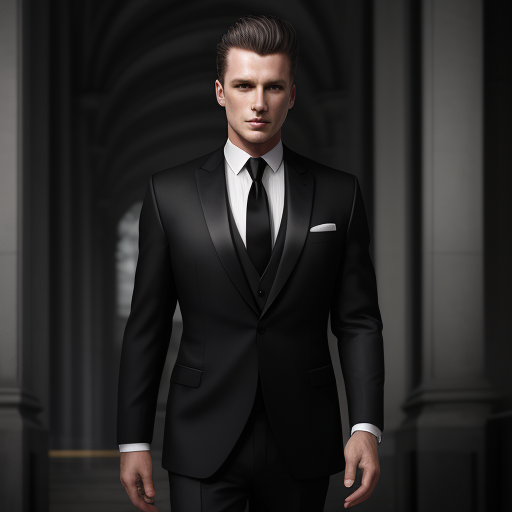 Buttons & Studs
In traditional black tie attire, the casual and plain shirt buttons are often concealed with formal shirt studs. These studs replace the basic looks of shirt buttons with a more refined and streamlined appearance.
The Dinner Jacket
Moving on to what is arguably the most important component of a black tie dress, the dinner jacket or the classic black tie tuxedo. Its sleek lines, refined details, and rich history make it the crowning jewel of formal menswear.
Color
The color of a black tie jacket is traditionally black and is a necessity to complete the overall look. A white tuxedo is sometimes an option and can be pulled off, but it's always safer to opt for a fine black dinner jacket.
Shawl & Peaked Lapels
The classic tuxedo allows two options of lapels; shawl or peaked.
The shawl lapel has smooth, rounded edges that gracefully wrap around the collar. There are no sharp edges, and it might complement your build and form more.
The peaked lapel features upward-pointing edges that create a V shape at the front of the jacket. This style adds a touch of flair and character to the attire.
The black tie jacket is most commonly single-breasted, which contributes to the jacket's overall sophistication. It maintains a sense of simplicity while allowing the lapels and other details to take center stage.
Add a neatly folded white pocket square inserted into the pocket to add an extra touch of elegance to the front.
A Bowtie's Finishing Touch
And we reach the center of it all, the black bowtie. As the name suggests, it always has to be black in color. There are just no other options to consider in any case. It is also recommended to have it hand-tied. So, you might have to learn to tie it, in case you don't already. Tying a bowtie can take a while as well, so plan and time it accordingly.
There are no options in colors but you can choose between different sizes to see what goes well with your look.
Cummerbunds & Waistcoats
Both cummerbunds and waistcoats are ideal waist accessories. It usually depends on your personal preference as to what you want to go for. They aren't a must, but they add a lot to your class and discipline.
Cummerbund
The Cummerbund is a traditional black tie accessory with both practical and aesthetic elements to it. It makes for better fitting and holds everything in place as is. All while adding an extra touch of sophistication.
Waistcoats
Waistcoats can do what a Cummerbund does but with extra aesthetics and an appearance boost. A deep U-shaped waistcoat can leave anyone feeling like an aristocrat full of class and grace.
The Trousers
Black tie trousers are usually pretty easy to cross out on your bucket list. A plain, sleek pair of black trousers is enough to do the job as long as you take care of the fitting and keep it neat and clean.
Shoes & Socks
You need to maintain the same sophistication and simplicity in your footwear, as you did with other elements of your dress.
For shoes, your best option is plain black patent leather shoes. Avoid wearing regular office boots as a black tie dress is supposed to be a step up from that in every aspect.
For socks, you can wear anything black that is neither too short nor too long. Avoid socks with patterns and designs, as well as colored socks. Heavier socks are recommended over thin see-through socks for etiquette purposes.
Accentuating Accessories
Accessories are fine, but only in a limited and fitted manner. A sleek, classic wristwatch, for example, can accentuate your overall look. An overly poppy and noticeable watch can ruin it all, too, however.
Rings are acceptable, but avoid heavy jewelry at any cost.
Conclusion
The black tie attire is truly a magnificent display of grace and elegance within simplicity. However, the power of black tie attire lies not only in the cloth but in the confidence of he who braces it. You are in control of how you carry yourself and present yourself. Everything else this guide has covered for you. Be it the basics of the black tie attire or tips for accessorizing and things you would like to avoid at a black tie event.