Your birthday is more than just a date on the calendar. It's a day to celebrate the person you are and your unique identity. There are many ways to make your special day even more memorable. We all love gifts and dress-ups but often ignore the smaller elements. If you're putting effort into your clothes, then why not into birthday nail designs that reflect your personality and style?
Best Birthday Nail Designs – List of Nail Design Ideas for Birthday
If you've been looking for some great nail design ideas for your birthday then look no further. Here are the best nail designs and ideas for you to celebrate your birthday:
1. A Minimalistic Approach
For those who prefer a chic and subtle look, minimalistic birthday nail designs are the way to go. Simple doesn't mean boring. Simple nail designs have plenty of elegance to offer. Opt for clean lines, neutral colors, and subtle accents that look pretty without being too flashy.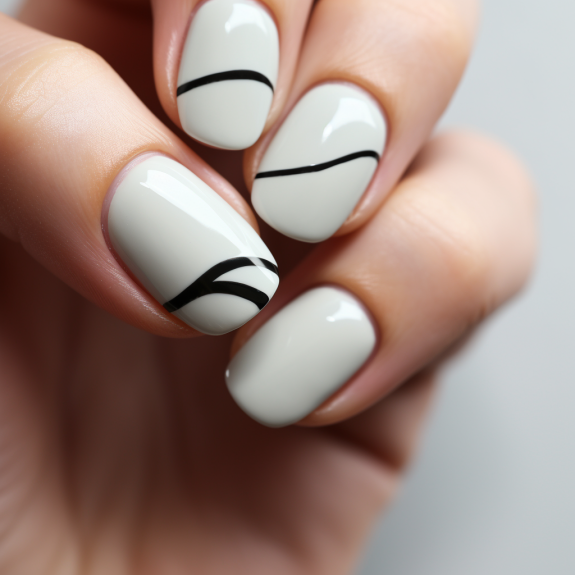 Ombre designs are the perfect example of that, as you can mix two different shades of colors together to create a seamlessly pretty look without looking too out of place as well.
You can even leave parts of your nails unpainted so you can create unique patterns.
2. Confetti Nails
Confetti equals celebration, so why not incorporate it into your nails as well? These nails can be as vibrant or as subtle as you like. For a more low-key look, opt for pastel-colored confetti or use a single shade. If you want to go all out, use bright and bold hues that pop out. You can try different things on different nails to create a quirky and poppy look.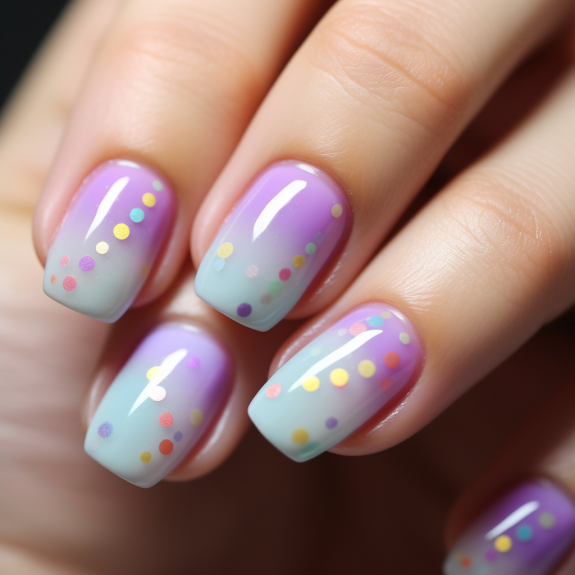 It's all about what you like, in the end. There's a lot of scope for accessorizing your confetti nails and adding decorations as well.
3. Polka Dots Designs
If you're a fan of timeless and retro vibes, then polka dots are the way to go. Polka dot birthday nail designs are classic, fun, and so versatile. They just won't ever go out of fashion and can be customized for any kind of occasion.
For a playful look, wear colorful polka dots on a white or pastel base. This combination adds a touch of nostalgia to your nails and also brings out the jolly side of your personality.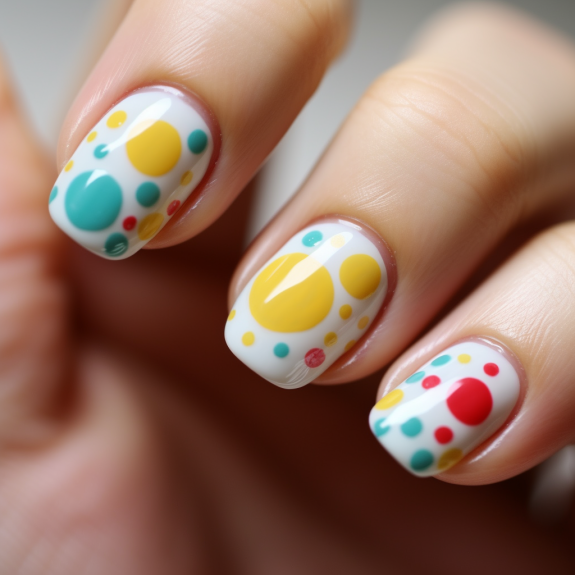 If you want more sophistication, you can opt for metallic colors that are more glamorous than playful.
Polka dot designs are easy to execute as well, and anyone can experiment with them at home.
4. Add Sparkle & Bling
No birthday celebration is complete without a touch of sparkle and bling. Add some glitter and glam to your birthday nail designs to feel like the true queen of the party that you are.
One of the easiest ways to add sparkle is by using glitter nail polish. You can go for a full-on glitter bomb by making all your nails shiny and glittery. Or, if you prefer a more subtle approach, you can create a glitter gradient effect by applying glitter only at the tips of your nails.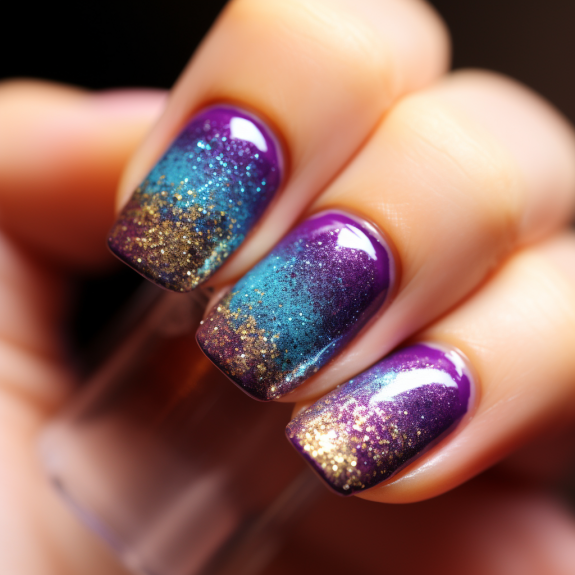 There are multiple types of glitters to experiment with, as well as the patterns you apply them in.
5. Designs With Numbers
Incorporating numbers into your birthday nail designs is a unique and personalized way to decorate your nails. Whether it's your age, birth year, or the date of your birthday, there are plenty of creative ways to add numbers to your nails.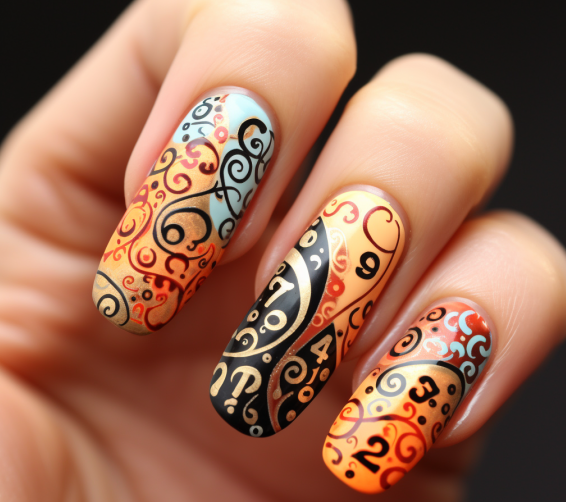 One of the simplest ways to include numbers is by using nail art stickers. You can find stickers with numbers in various fonts and styles to fit your vision. Or you can simply draw numbers on your nails freehand. There's so much to experiment with and fun to have with numbers on nails.
6. Designs With Letters
As is the case with numbers, you can also add lets to your nails for design and decoration. You can spell out your name, initials, or a meaningful word that represents you. You can even use charms or tiny beads to spell out a letter on your nails. It might take longer, but that's fun in its own way as well.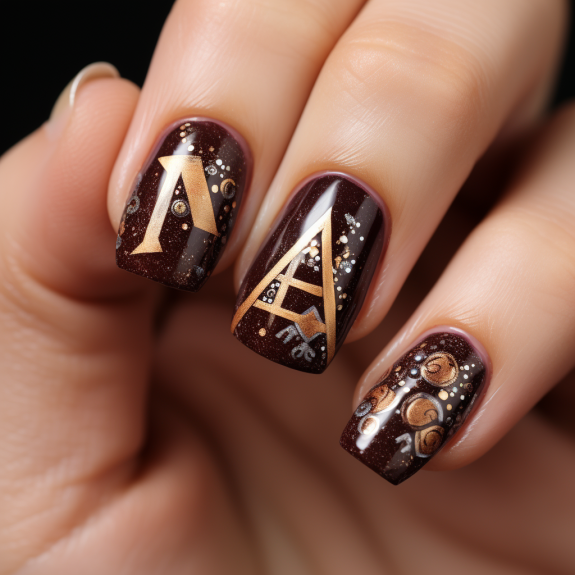 Another way is to create a negative space design with letters. Leave parts of your nails unpainted and spell out letters using that.
7. Go Unconventional & Bold
If you want to stand out and make a statement, unconventional and bold nail designs are always there. From geometric shapes to movie references to abstract patterns, the choices are endless. You can even combine multiple choices and styles to create something totally unique to you.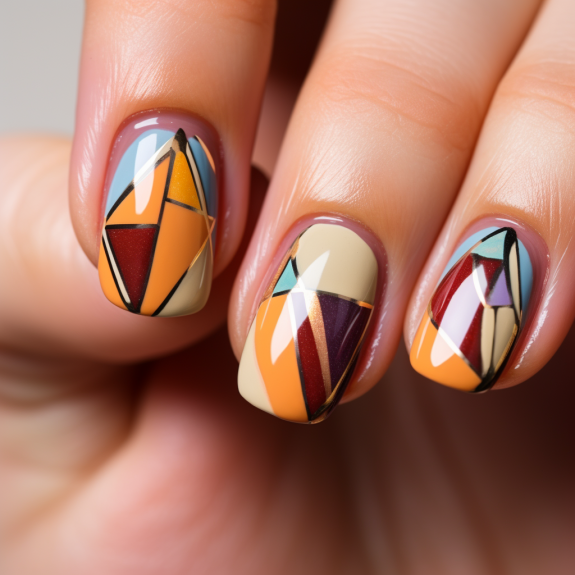 8. Themed Birthday Nail Designs
If you are throwing a themed party, you can simply design your nails based on that theme as well whether it's a cartoon-themed kids' party or a gathering of people dressed like it's the 80s. Just go with the flow and match your vibes with the party.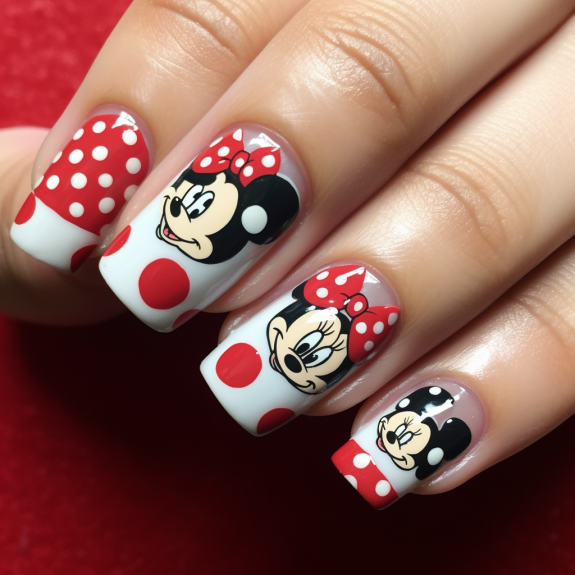 9. Zodiac-Themed Birthday Nail Designs
Whether you're a firm believer in astrology or not, there is plenty of styles and aesthetic value to explore in zodiac-themed nail designs. Use colors associated with the elements of each zodiac sign. Draw different signs in your own style. They don't have to look exactly the same or perfect. Be creative, be experimental. Making it unique and personalized is the whole point.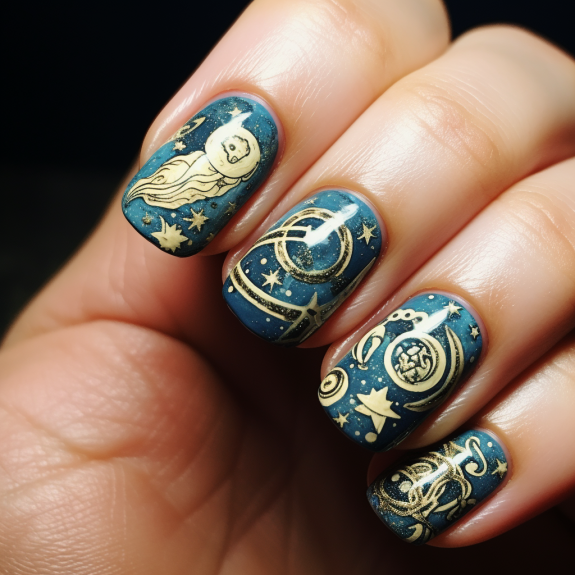 For a personalized touch, incorporate your zodiac sign's ruling planet or birth flower into the nail design. This makes it more meaningful and personal.
10. Eco-Friendly Nail Designs
If you're an eco-conscious individual, why not celebrate your birthday with eco-friendly nail designs? Embrace sustainable and eco-conscious choices for your nail art. You can look stylish and classy while also contributing to the well-being of our planet.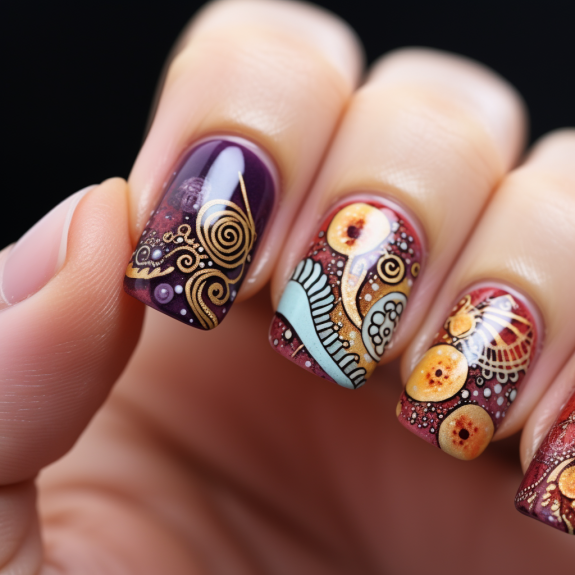 Opt for nail polishes that are free from harmful chemicals like formaldehyde, toluene, and phthalates. Consider water-based nail polishes that are non-toxic and not harmful to the environment. Also, go for brands that are known for being against testing on animals.
Accessorize Your Nails
There are a lot of decorative accessories that you can use to enhance the looks of your nail design further. Be it sleek nail stickers or charming rhinestones. Options like foils and 3D stickers are available as well. There are plenty of options, and you can even try all of them on different nails. It's your birthday, and you get to choose what you want to do.
Final words
Birthdays aren't just all about cakes and balloons. After all, you make your birthday what it is, and you have the right to be the main attraction. On a special day, you must look special from top to bottom. We have got the nail part covered for you here. No matter how old you are or what milestone you're reaching, there are birthday nail designs for everyone. Beauty should be inclusive, after all. So, paint your nails with love, let your creativity flourish, and wear your true self with pride.