In this post, we've collected 51 White Nail Design ideas to help you create the look that works best for you. Your nails can add personality and flair to any outfit, and they're also a reflection of your style. Whether you love dark polish or wish you could grow them longer, there's no wrong way to go about manicuring yourself!
51 White Nail Designs You Can Try – List
From delicate shades to bold graphic designs, there's something here for everyone. This styling guide will help you steal the show. So whether you're looking for inspiration or just want some ideas to get started, keep reading!
1. Classic White Square Acrylics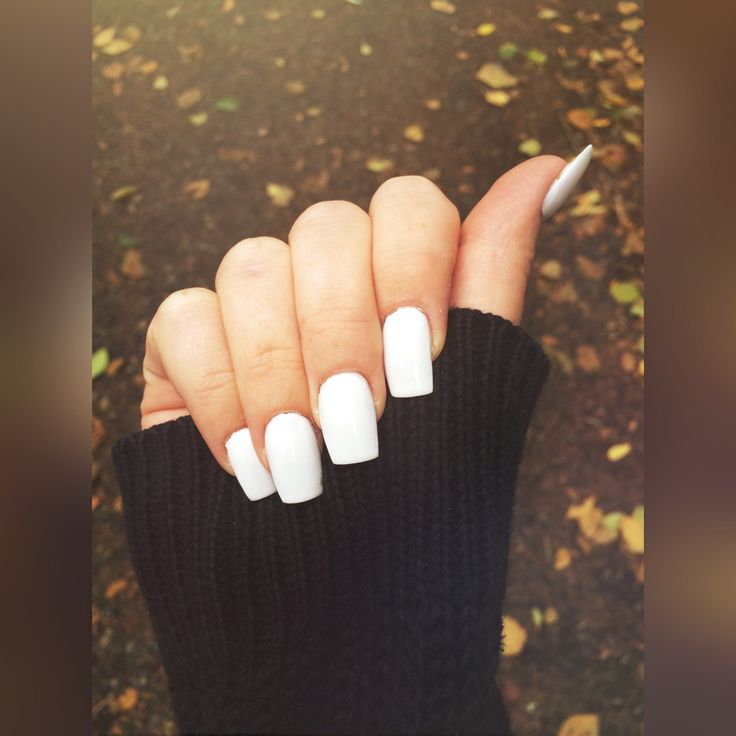 Just use a few nice white square acrylics to keep things simple. These simple nails always look elegant and match your clothing whenever possible, whether you choose a brighter milky white or a more translucent white.
2. Coffin Style White Nails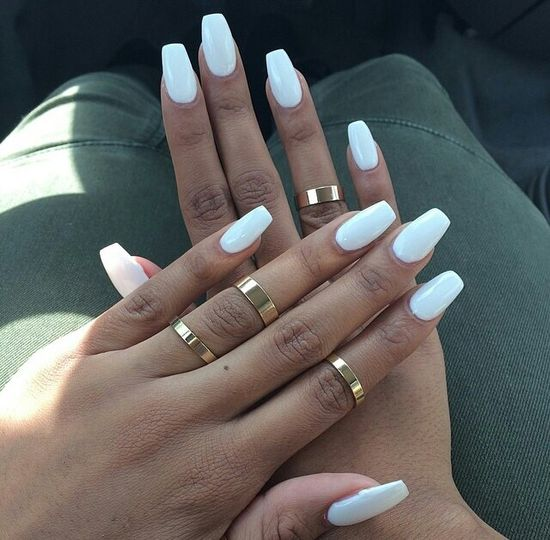 This straightforward coffin nail design is a terrific method to give your nails some interest and dimension. You may create a look that is both distinctive and attention-grabbing by utilizing various tones of white, dark black, or brown (or any other color you prefer).
3. Subtle Glitter
These glimmery designs have a simple, almost invisible appearance. Two hands covered in glitter are the original concept. The sparkles match the nail color so you can barely tell when it's time to shine. This is a stunning look if you want to spice up some basic nails!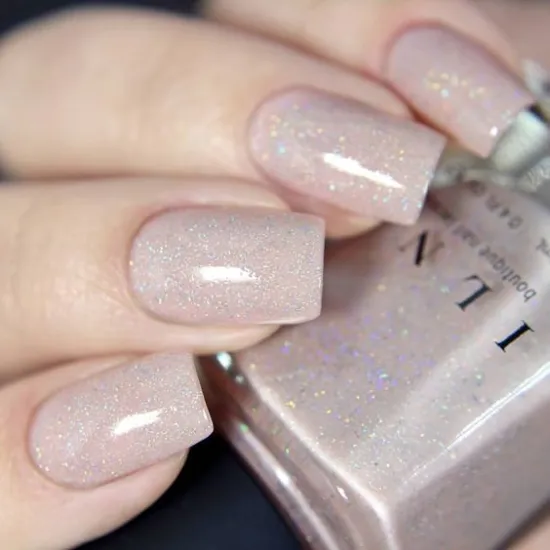 4. Classic White French Tips
When it comes to white nails, French tips are a necessity. These clear tips can be adorned with any nail color you like and always look classy. French tips are the perfect way to show off your polish skills!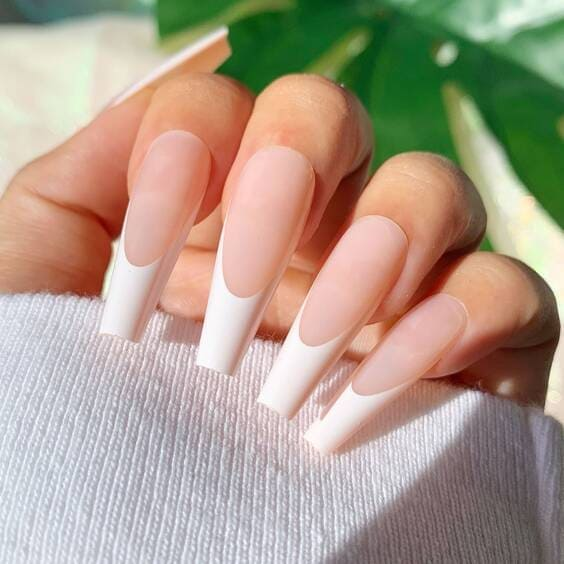 5. Trendy Wavy
It is chic to experiment with different nail designs, but sometimes you just want something classic and simple. This wavy design is a great way to achieve that goal without sacrificing any of the style or flair you love so much.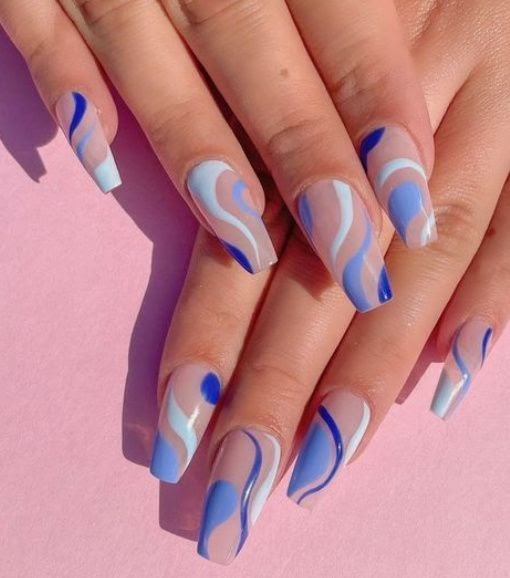 6. Romantic Flower Design
Flowers are always popular for white nails, and this romantic flower design is no exception! The soft colors add an air of elegance, while the delicate petals give your nails plenty of shine. Just be sure to use a light color polish if you want these flowers to show up well!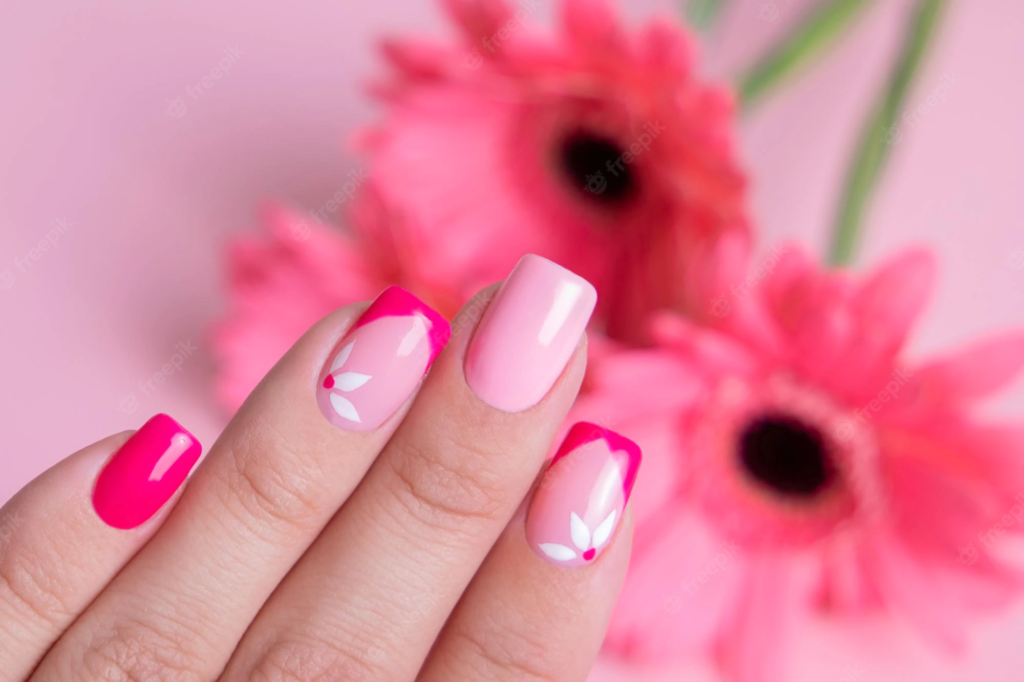 7. Wavy White French Tips
This nail pairs the wavy trend with French tips and is a must-have if you adore French tips. It's so distinctive and enjoyable!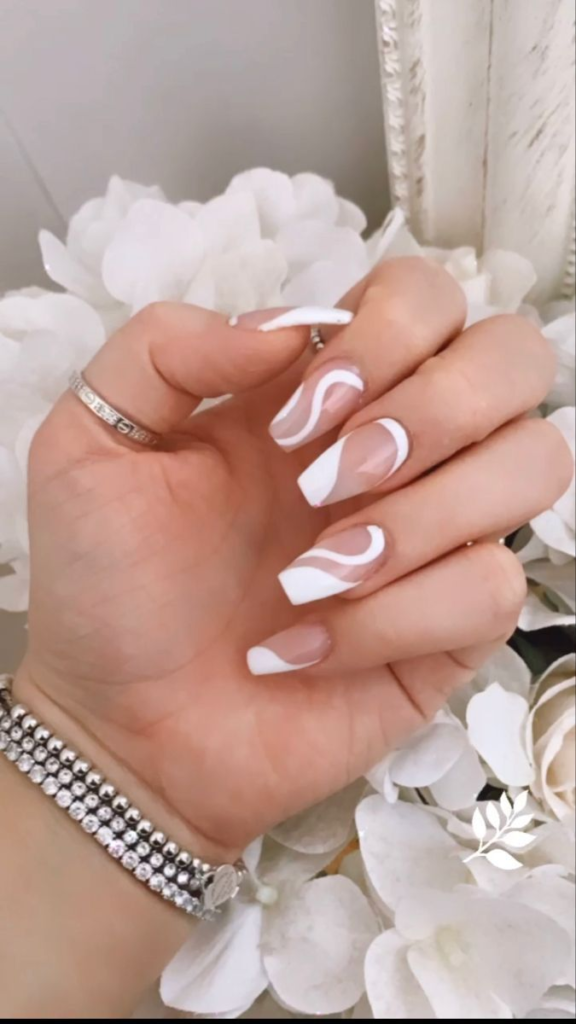 8. Thin White French Tips
These barely-there French tips are ideal if you want to achieve a minimalist look. They will come in handy for any occasion.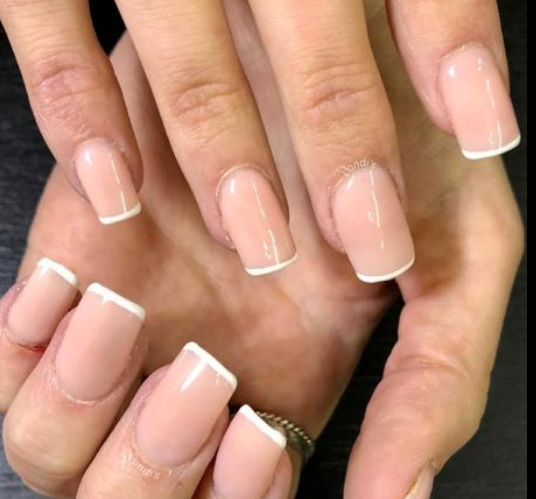 9. V-Shaped White Tips
V French tips are a favorite of ours. You can't go wrong with either one, no matter your choice! The V formation gives your nails a trendy, edgy look.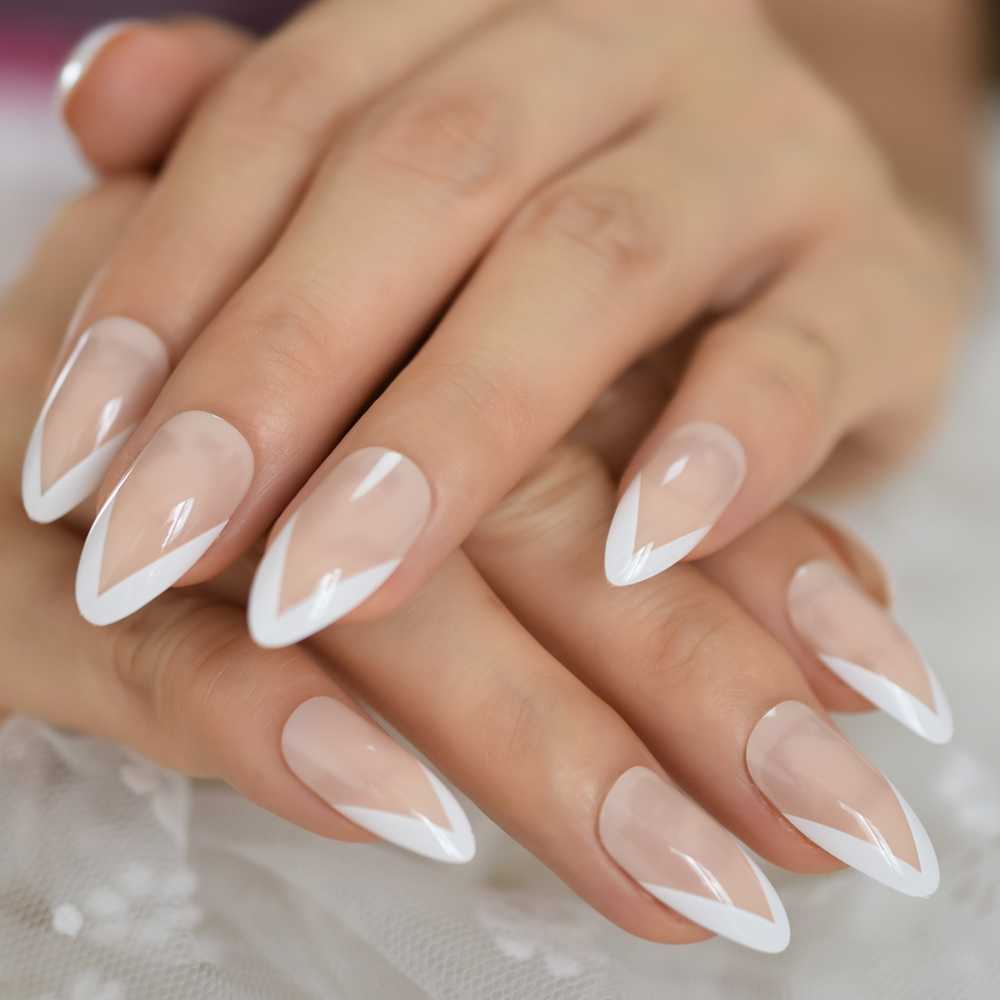 10. Smoky White Nails
Although marble is beautiful, our current obsession is with smokey white nails. Use all of your fingers or just one to express your feelings.
11. White Ombre
Another timeless design that never seems to go out of style is ombre nails. Using your natural nail color with white ombre creates another elegant, simple look.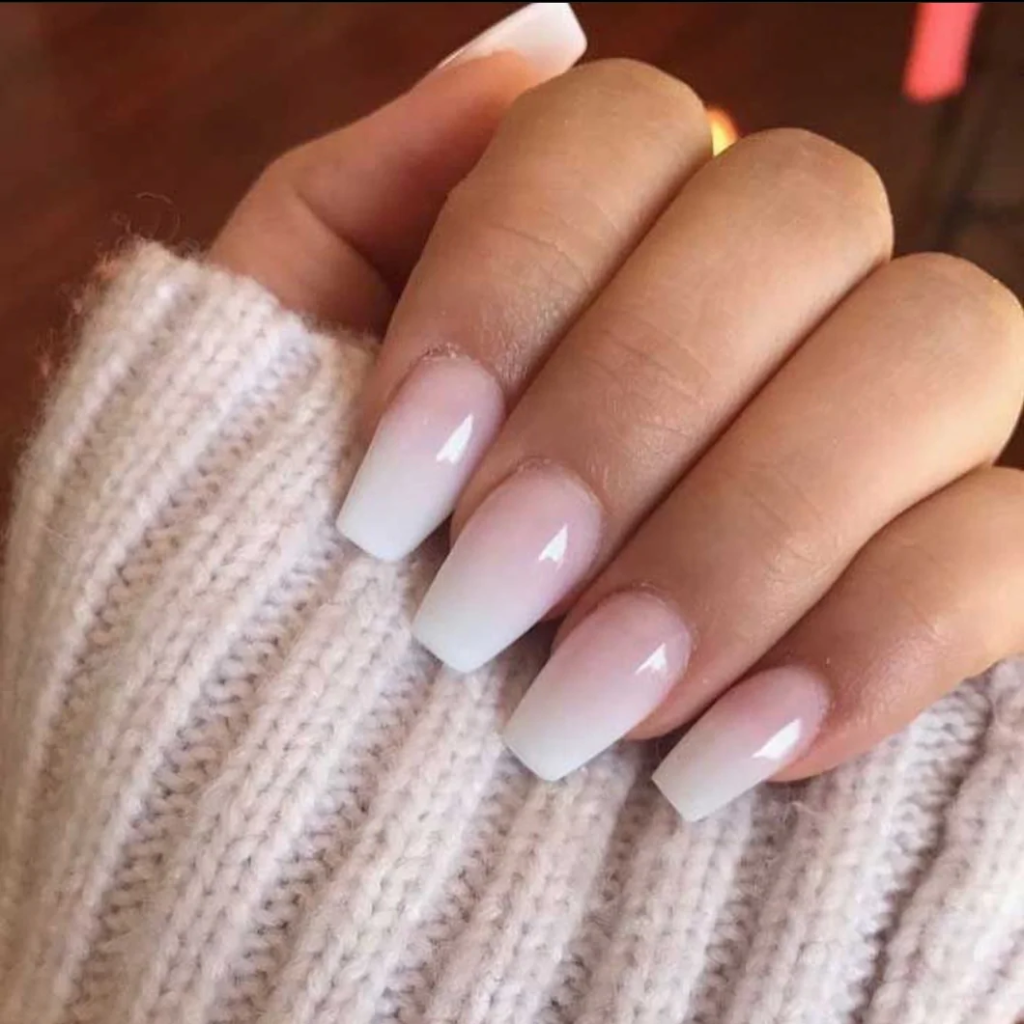 12. White-on-White
There is a tonne of inspiration for nail art that uses your natural nail color as the base, but you can also choose white-on-white patterns like this one. Simply choose a beige-grey shade for the background and dazzling white for the pattern.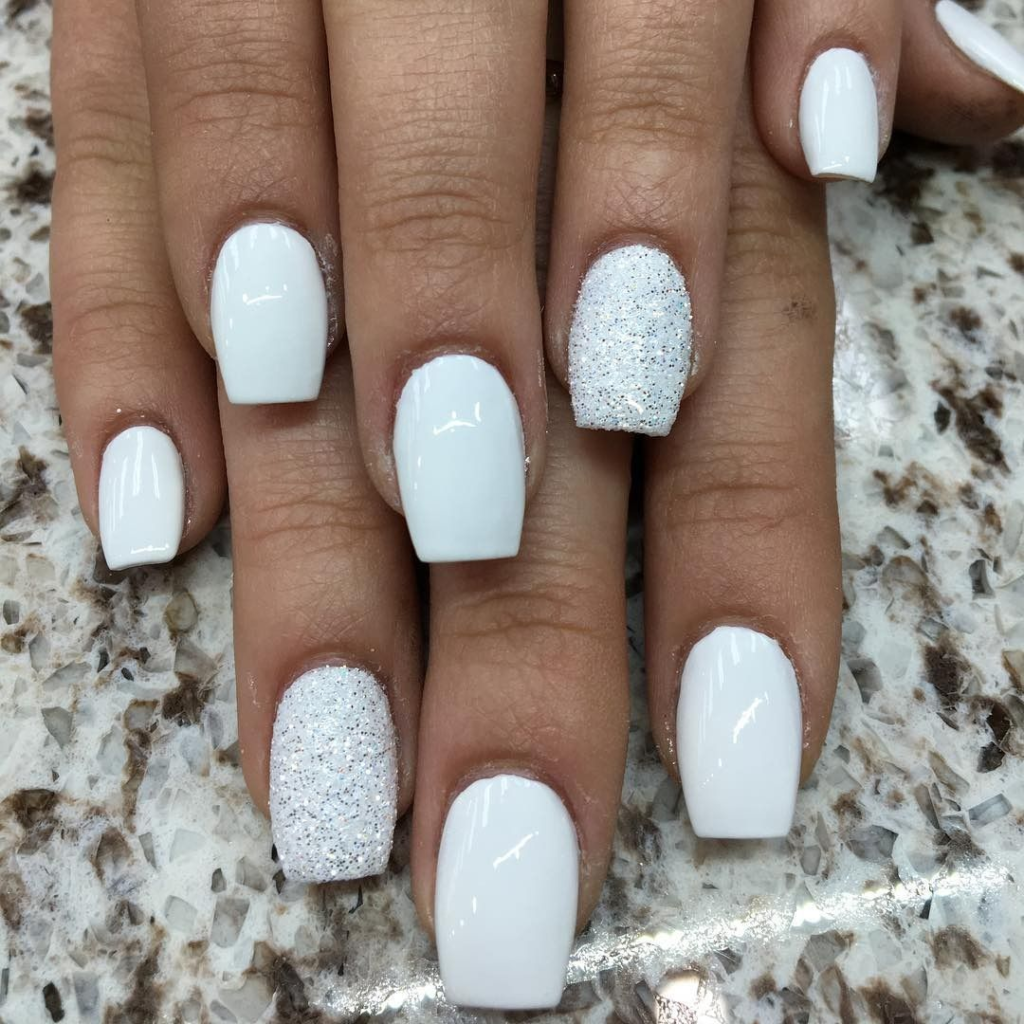 13. Flower Pearls
The warmer months are ideal for this lovely design. It finishes with a couple of decorative flower jewels on each hand and a few pearls on each finger. Incredibly beautiful!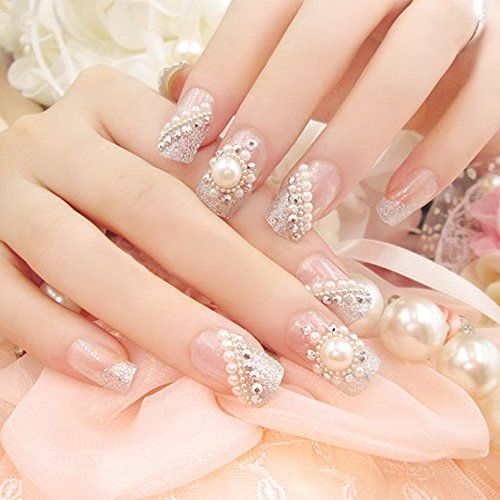 14. Flower Power
If you enjoy flowers, you'll appreciate these white nails with flowery accents that emulate a flower's petals. The base color is nude, but you can choose different shades to add flair.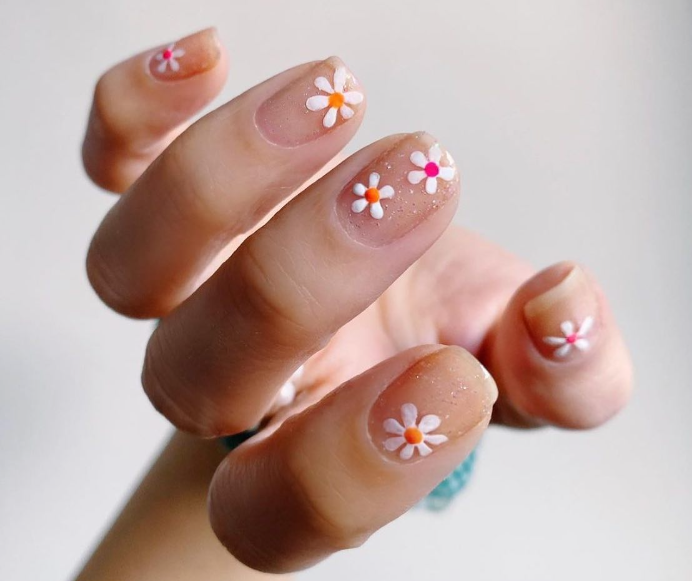 15. Pointy Claws
Nothing will make your mother wince like a sharp nail. Choose some cat claws if you want a white nail design that makes the shape stand out. We adore French tips or a plain white nail for the design!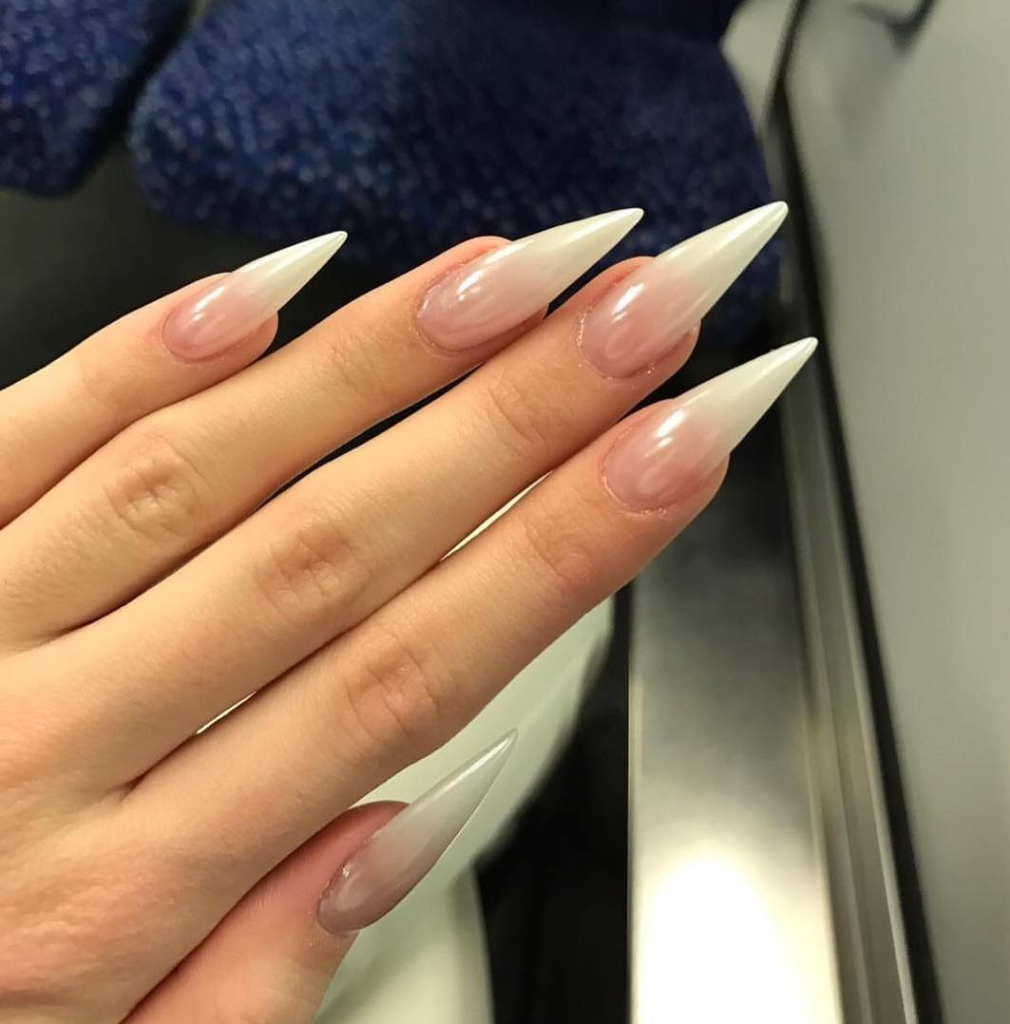 16. Single Finger Bling
Your white nails will look more exciting if you add some bling to just one of them. Bling is always in style, whether you choose to cover the nail or go for a single statement gem.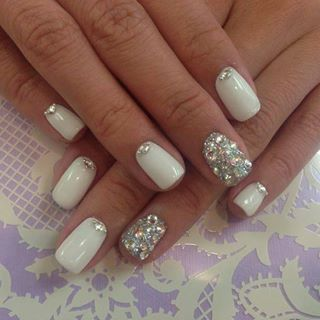 17. Ring Finger Marble
The ring finger's traditional white nails with a marble pattern scream luxury. If you want something more interesting, you could also choose for marble each nail!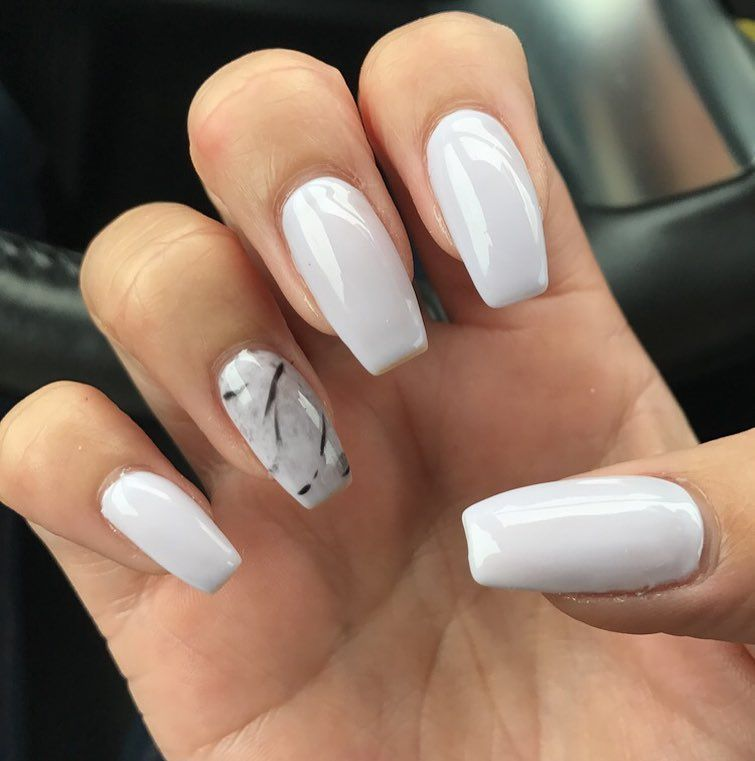 18. Add a Heart
This cute cream-colored manicure embellishes one nail on each hand with a black heart pattern. We think it's adorable and straightforward.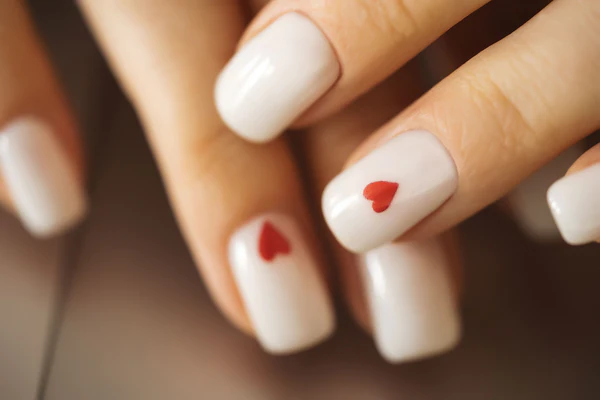 19. White With Gold
Gold flakes or glitter are a great way to glam up your white nails if you're willing to add some color where it's not usually seen. This design also finishes with a simple black tip.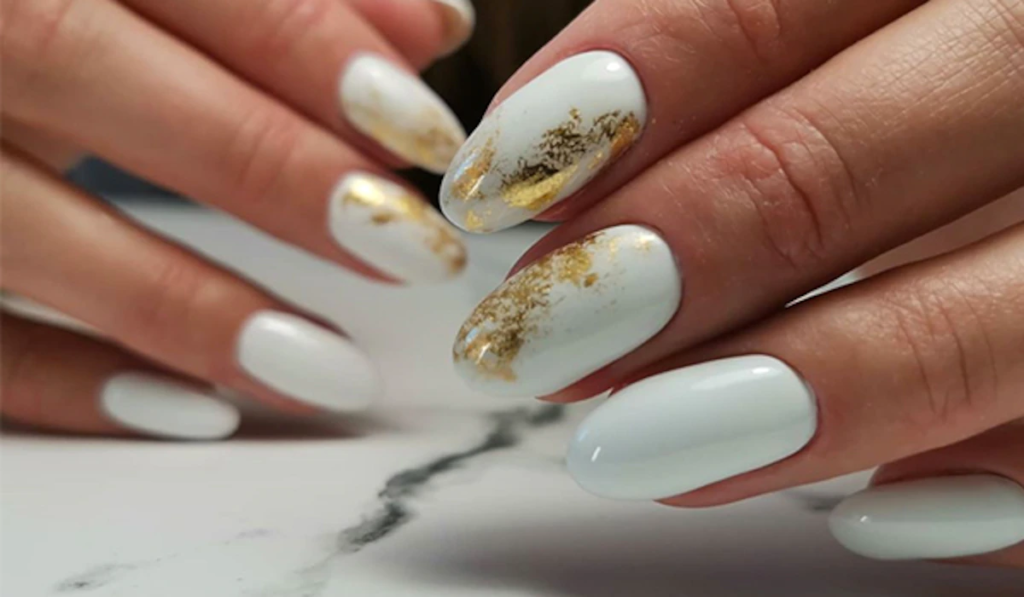 20. Wedding-Inspired
Get motivated by this stunning floral set for a set of nails that are ideal for a wedding where you'll be wearing a long dress. You could also choose to pair this design with coordinating wedding accessories, such as headpieces and jewelry!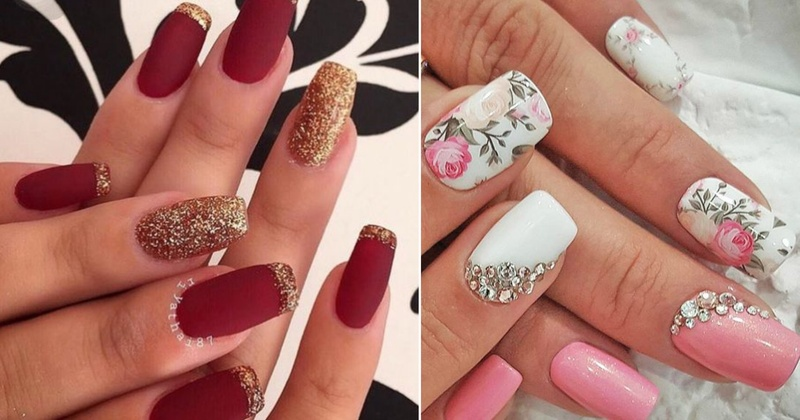 21. Touch of Color
This understated white ombre nail design will add a playful, tiny touch of color that can brighten up your look.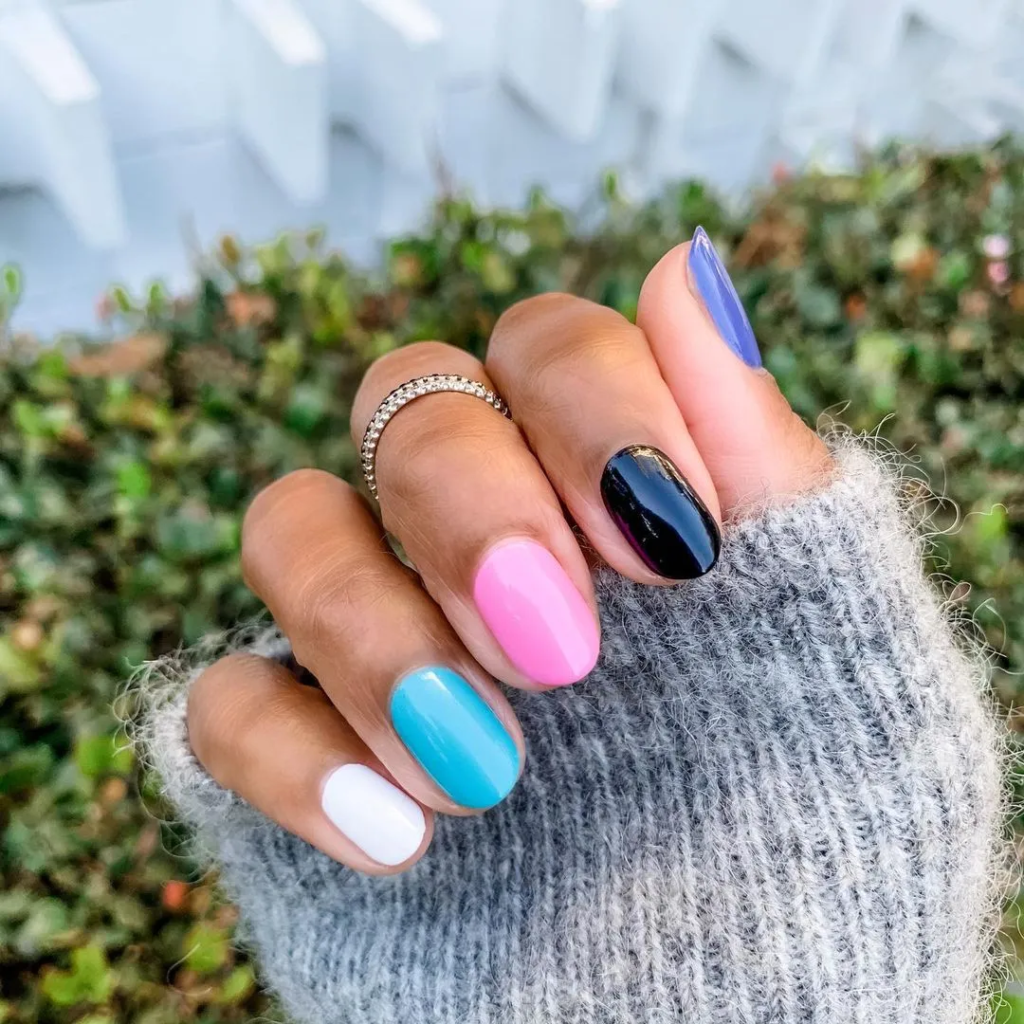 22. White & Grey Marble
With this lovely marble set, you can add some grey to your white nail appearance. You won't be sorry.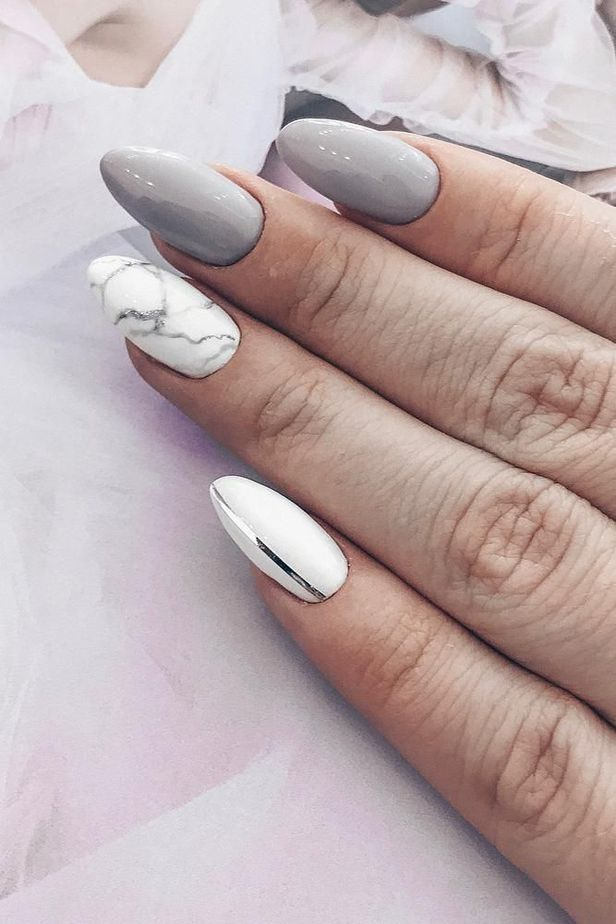 23. Designer-Inspired
These nails are perfect for you if your collection of designer bags is your addiction. You can recreate the look of luxury fashion brands with this design.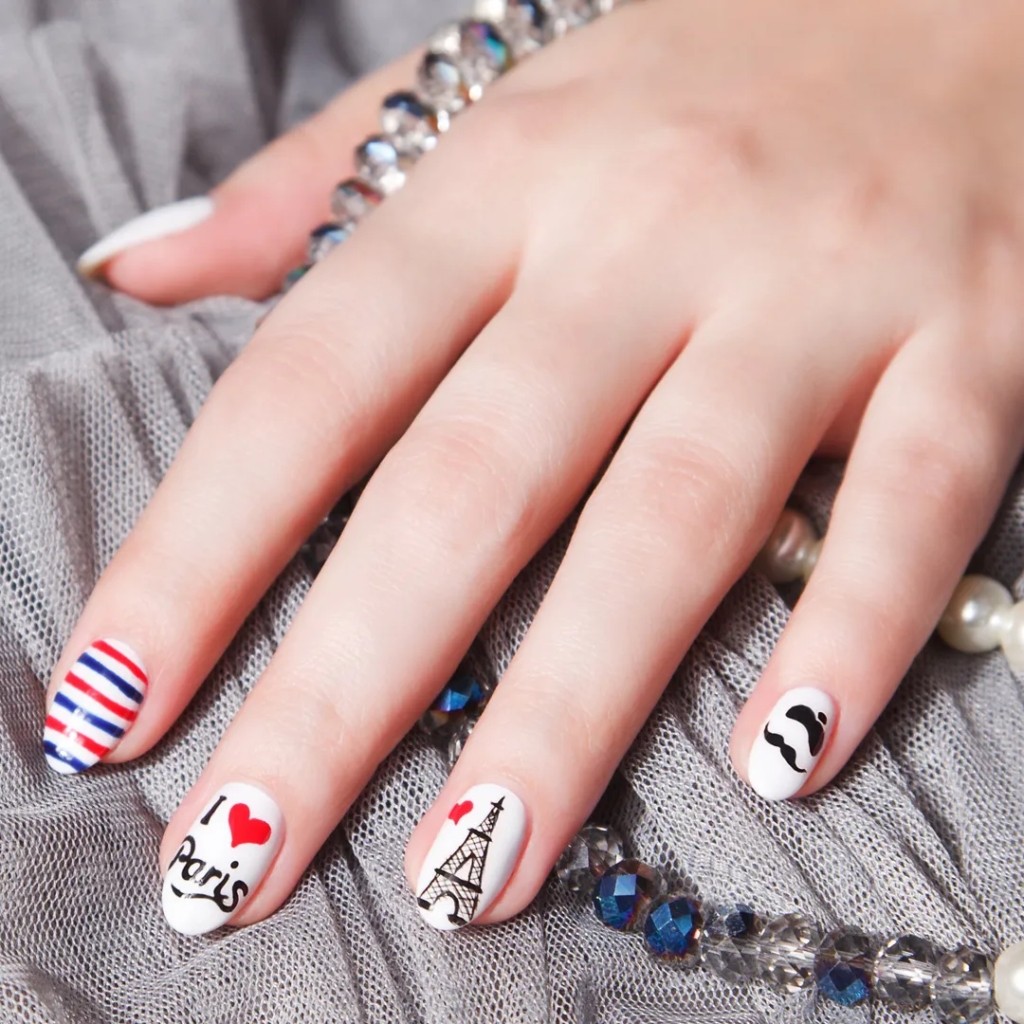 24. Add Some Extra Bling
Adding extra bling is always a good idea. These original concepts are covered in sparkling diamonds and more gems.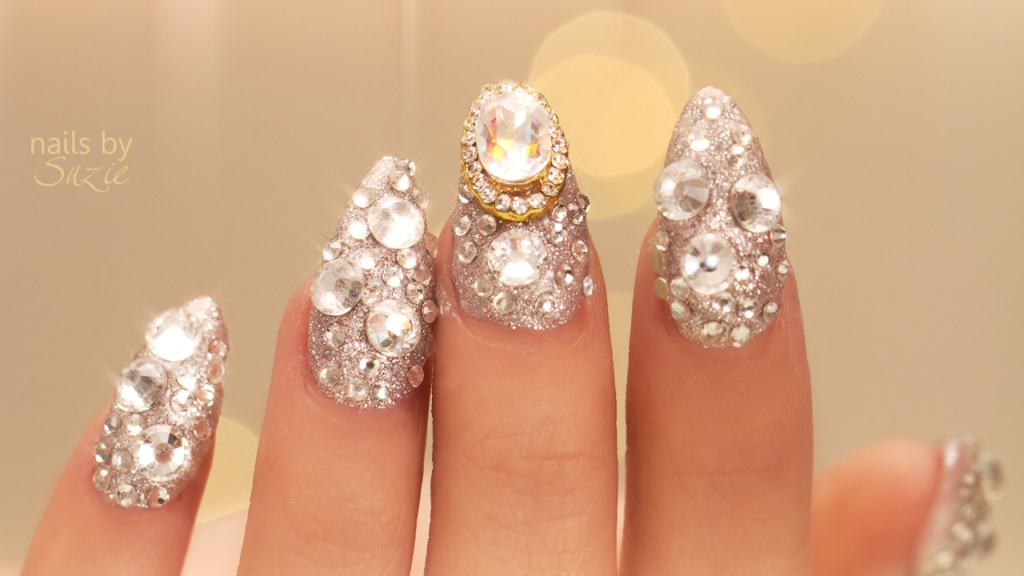 25. Leafy Love
Go for a black-and-white nail paint design to take advantage of the matte nail trend. A glossy white nail is paired with some leafy designs in this manicure.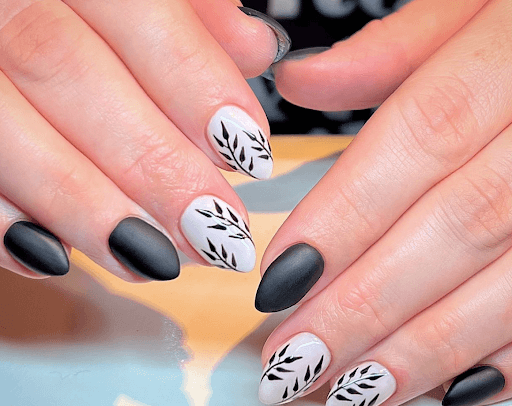 26. Almond Shaped White Gems
This almond-shaped white gem set is a great way to add some pizzazz to your nails. It's simple but elegant at the same time and would be a great addition to any manicure.
27. Gold Butterflies
These nails are inspired by butterflies. They are embellished with a beautiful gold butterfly delicate and pretty design.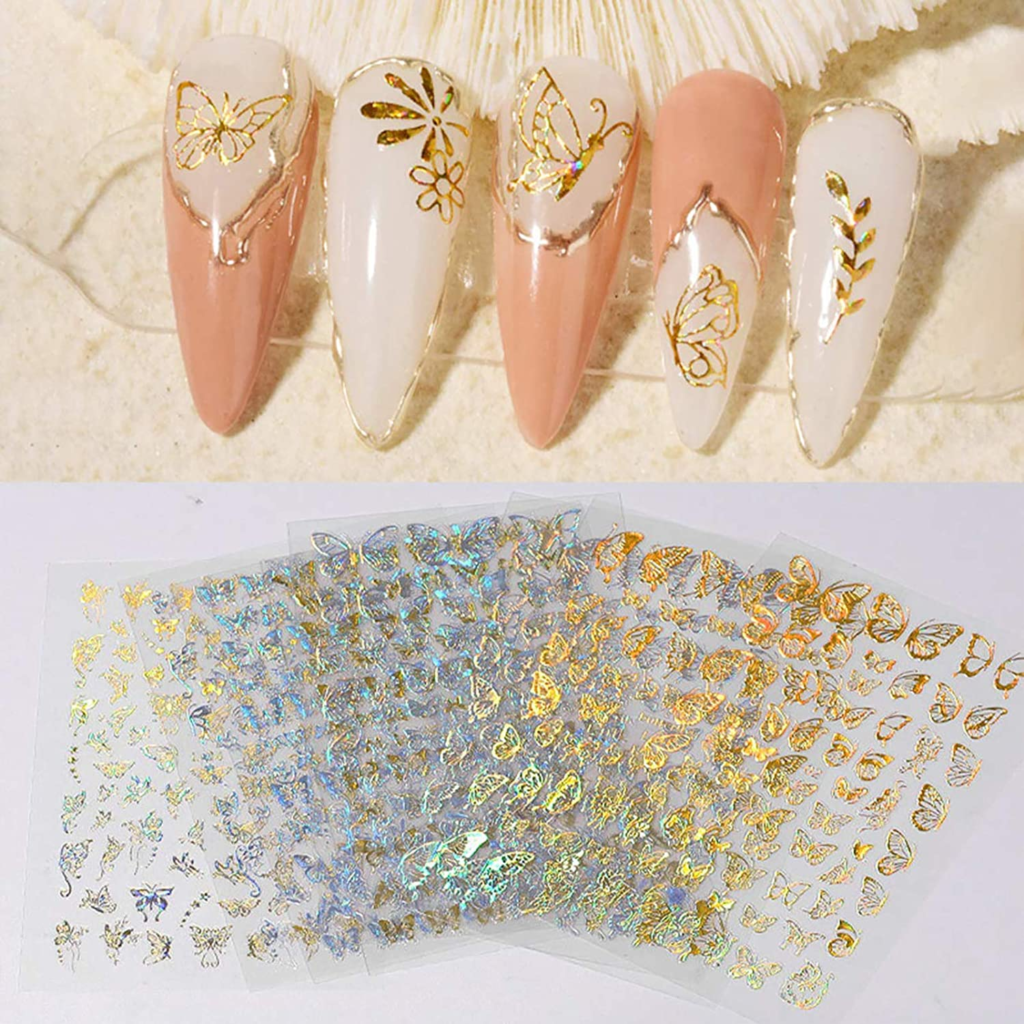 28. Colorful Glitter White Nails
This pretty glitter nail design is a great way to add some extra flair to your nails. The different colors of glitter are so vibrant and beautiful.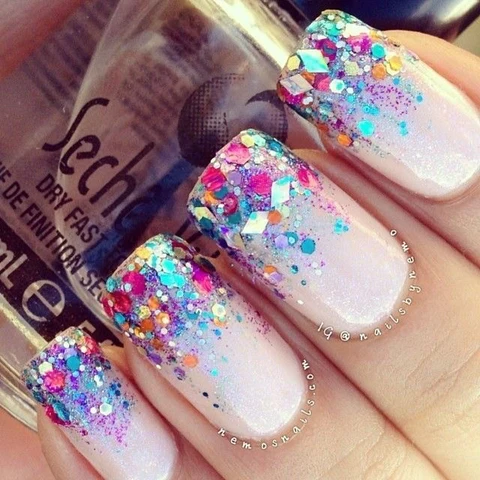 29. Photo Finish
This design draws inspiration from Instagram and uses lots of soft light reflections in white for an ethereal look. Simply paint your nails as usual, then use a flat top brush to apply two coats of white polish directly onto the nail art surface. Leave one coat dry before applying the second layer using a circular motion.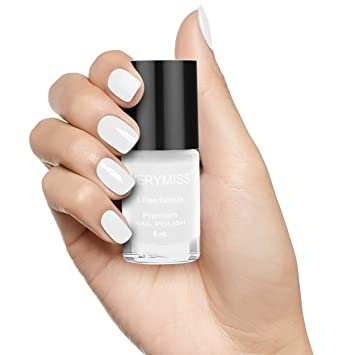 30. White Swirls
These nails seem simple but fashionable, thanks to the white swirl pattern. You could experiment with the color of the swirl and vary the design.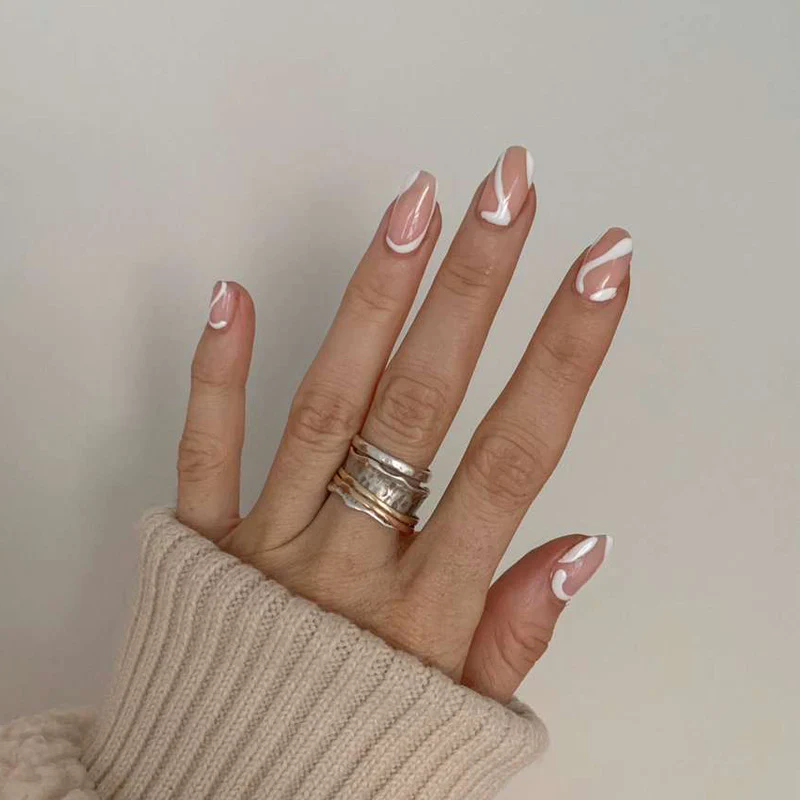 31. Cute Heart
This heart-shaped design is simple but so cute. It would make a great addition to any nail art collection. The nail polish is painted in shades of pink and white; then, the edges are finished with a delicate edge.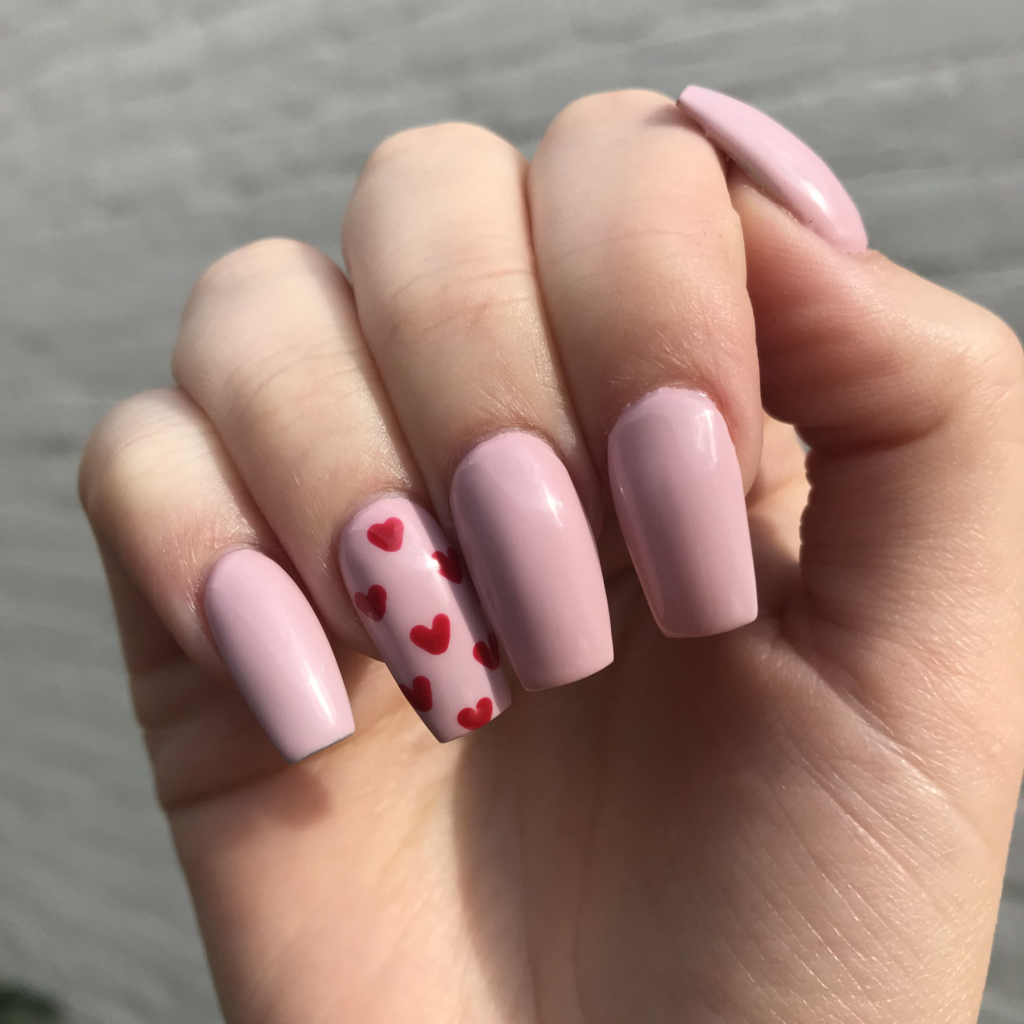 32. Glitter Gradients
These glitter gradient nails are beautiful and unique. They use different colors of shimmery glitter for an eye-catching effect that will surely draw attention to your hands!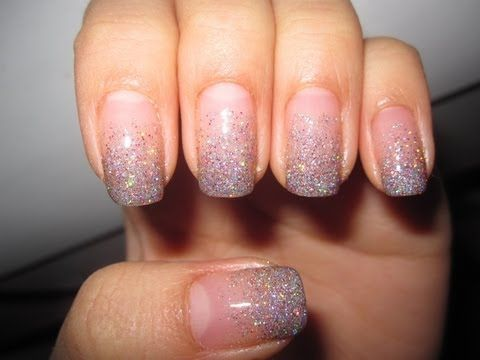 33. Colorful Stars
The colorful stars on these white nails are so much fun. This makes for a great design for a festive occasion or adding some extra pizzazz to your everyday nails.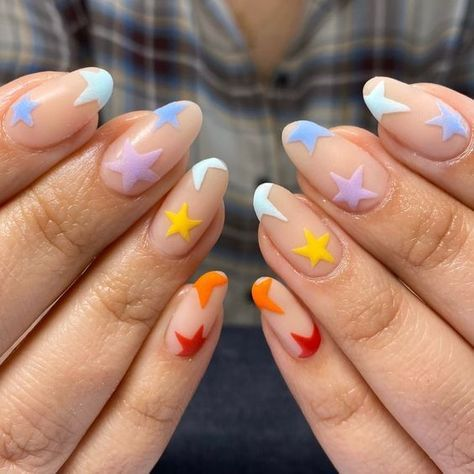 34. Textured Nails
If you want nails that are different and stylish, then textured nails are the perfect option for you! This style uses lots of small dots on the nail surface, giving them an interesting texture.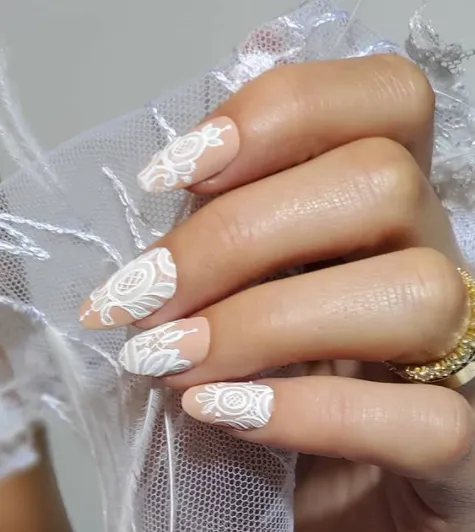 35. Geometric Designs On White Nails
Geometric designs are so popular right now that these nails take the trend to a new level. The nail polish can also be applied in shades of blue and white and then carefully worked with a dotting tool to create intricate designs.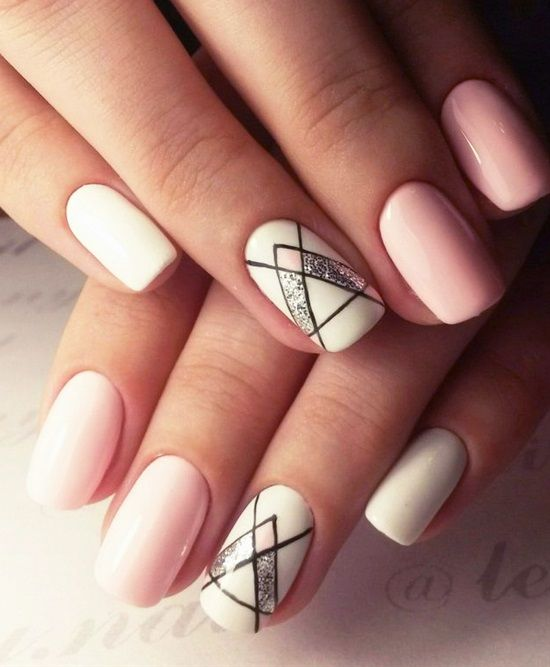 36. White Doodles
These white gel nails are the perfect option if you're looking for exquisite gel nail designs. They have a straightforward white pattern and are the ideal length for everyday wear.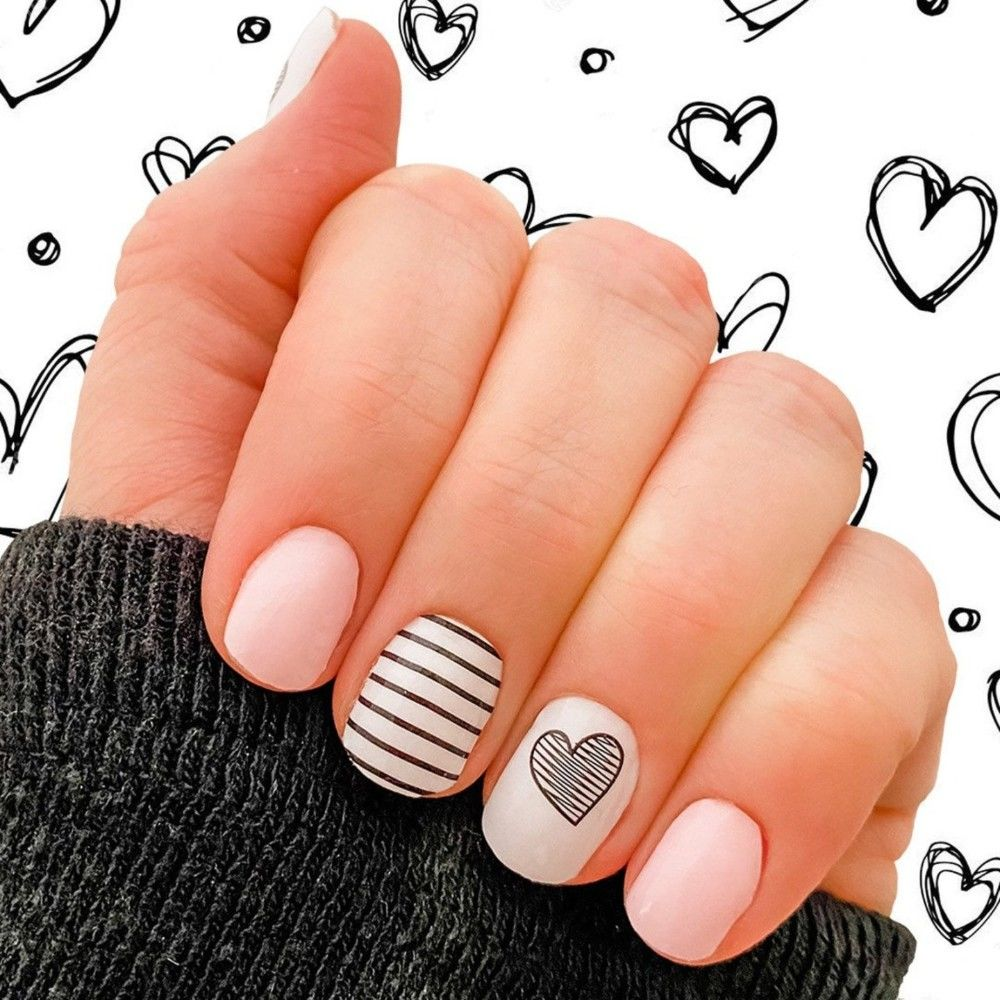 37. White With Sparkles
If you're looking for a nail design that is both white and stylish, then these sparkling nails are perfect for you! The nail color is applied in light green and silver shades and then finished with a shimmery diamond pattern.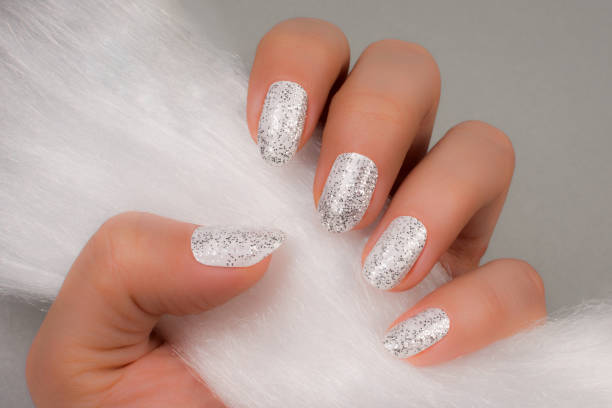 38. Polka Dots
This pretty polka dot design is simple but very chic. It would look great on any hand – either feminine or masculine – and could be used to create an eclectic fashion style.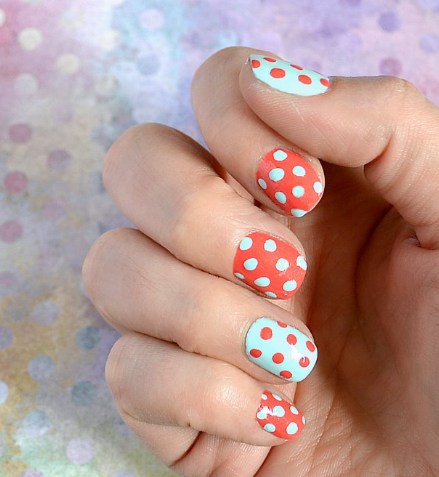 39. Simple White Nails
These plain white nails are the perfect option for a simple, elegant style for your nails. They use a neutral color and have a slightly glossy finish, making them look polished and sophisticated.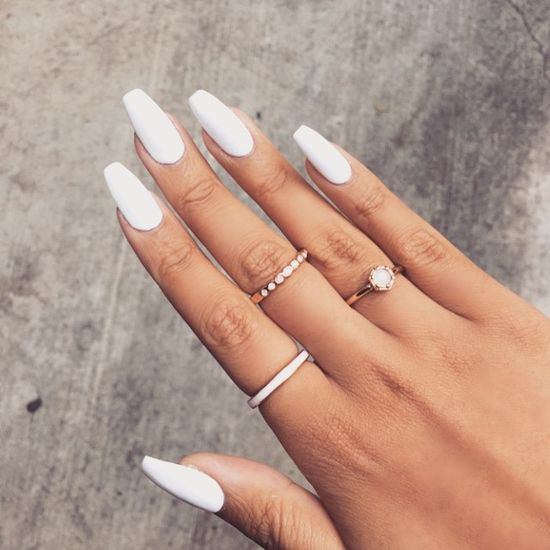 40. Crystal Chic
This amazing crystal-inspired design is simply stunning! The nail polish is applied in shades of blue and purple and then finished with delicate sparkles in gold and silver. It would make an eye-catching addition to any hand!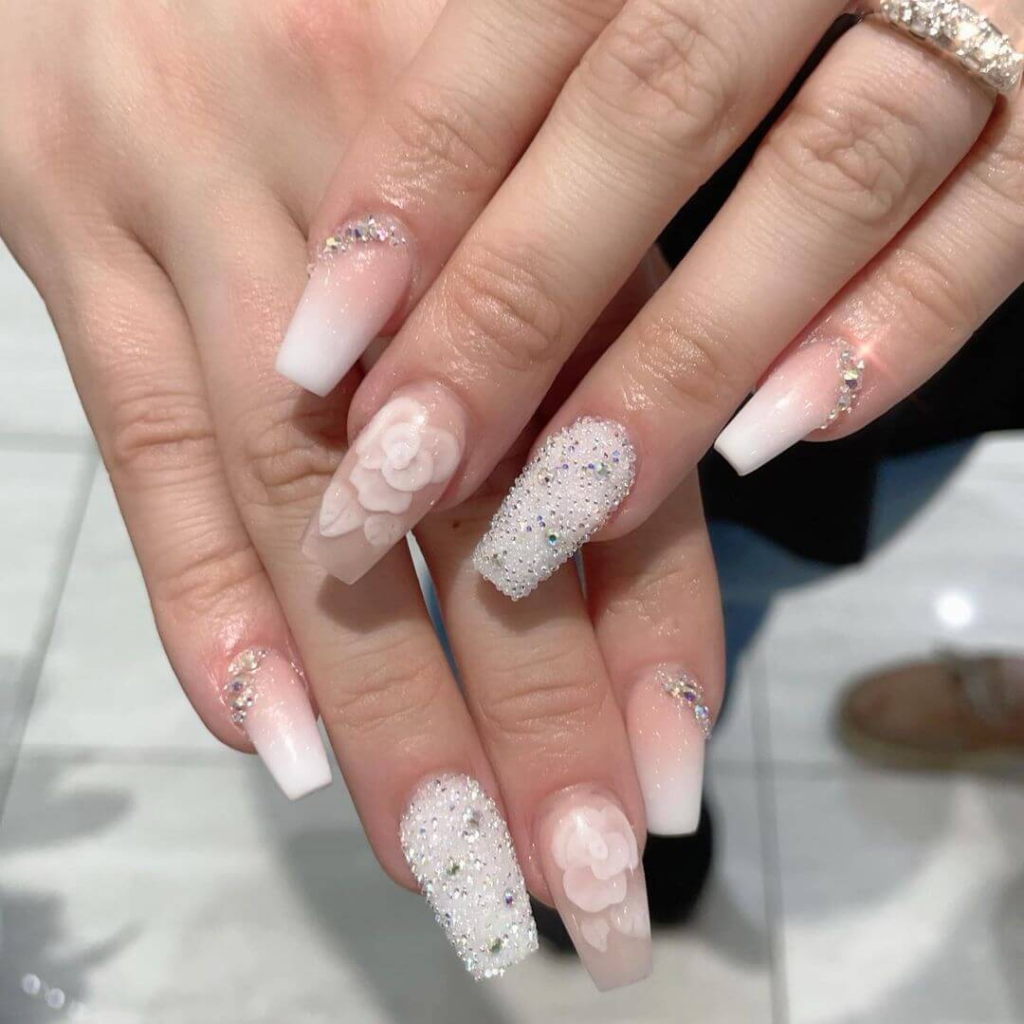 41. Minimalist Farmyard
This farm-inspired design is simple and elegant, perfect for the modern woman. The nail polish is applied in shades of light green and brown and then finished with a subtle pattern of dots. It would look fantastic on both a woman's and a man's hands!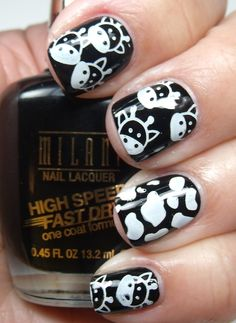 42. Milky White & Gold Leaf Nails
Try mixing and matching nail art, like this look, for a natural and understated look if a simple white nail look isn't enough to satisfy your sense of style.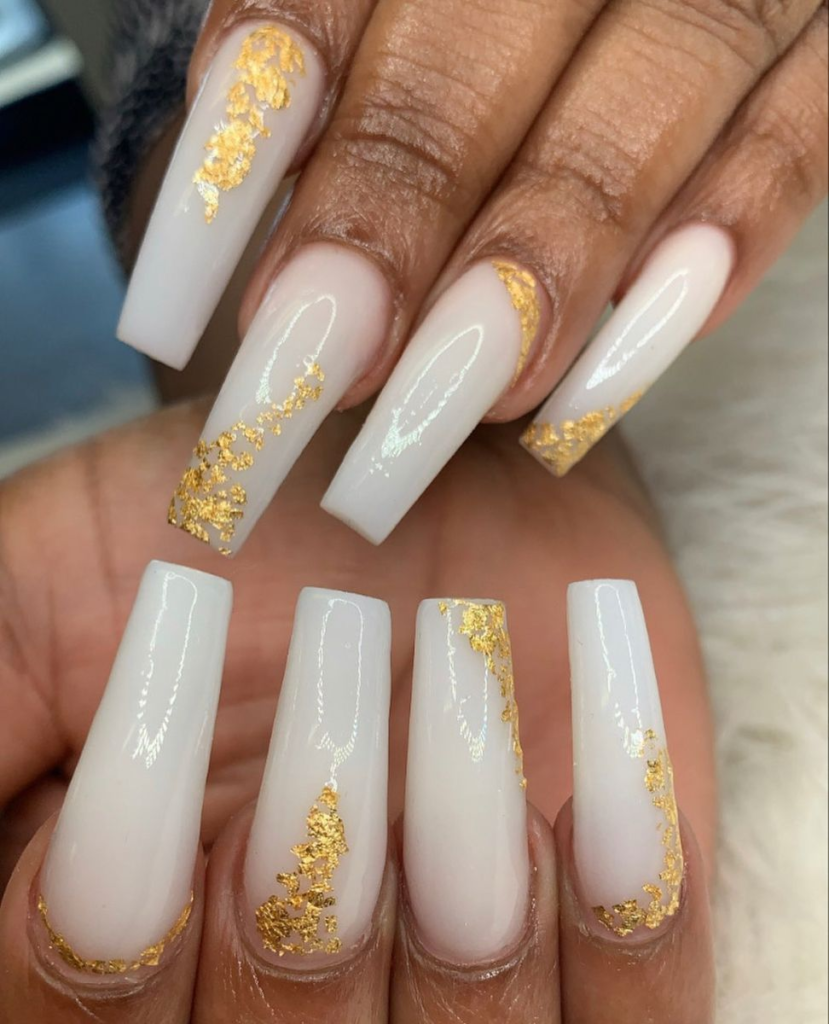 43. Modern French Mani
White lines that play with negative space can be used to replace your long coffin nails. Add a rhinestone or glitter to each nail if you want a more glamorous look.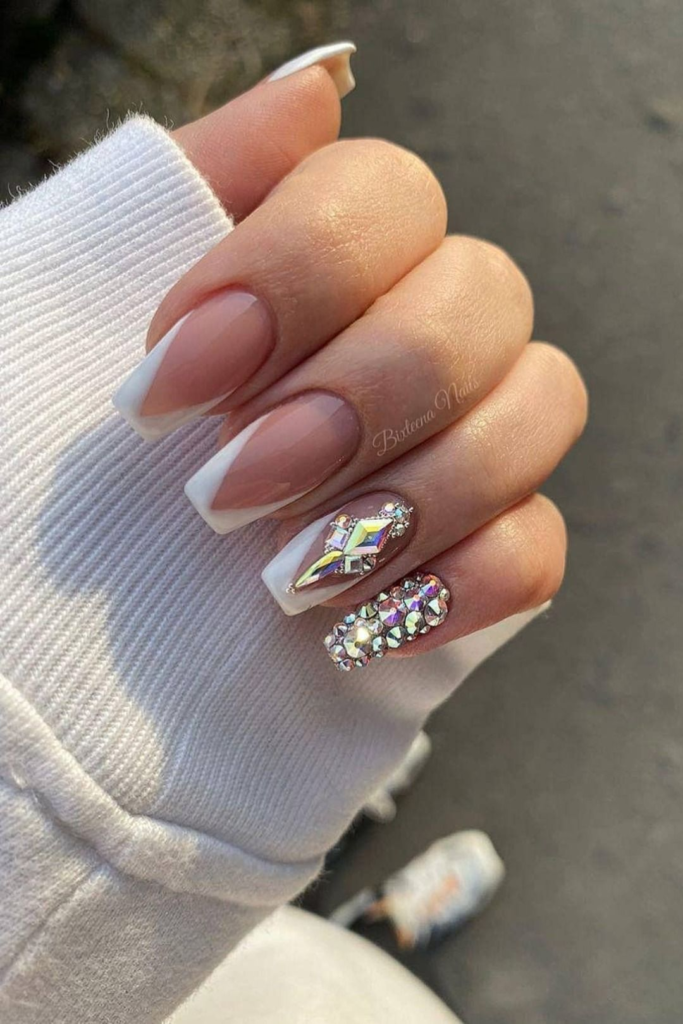 44. Milky White, Gold & Pearl Nails
This simple and luxurious look uses a range of different shades of white, gold, and pearlescent colors. The nail polish is applied in layers so that it builds up on the nails to create an intricate pattern.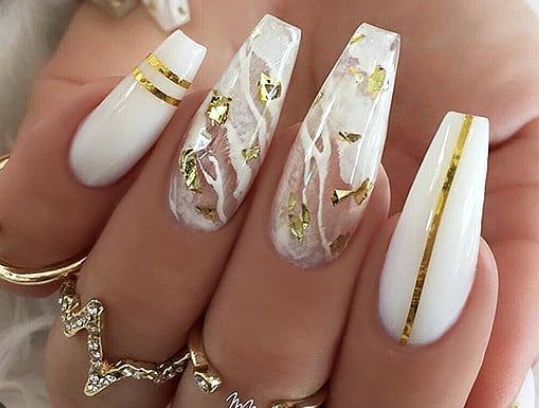 45. Glittering Pink & Silver Nails
This glittering pink and silver design creates a beautiful feminine effect with its delicate sparkles. It would be perfect for special occasions or formal events, like weddings!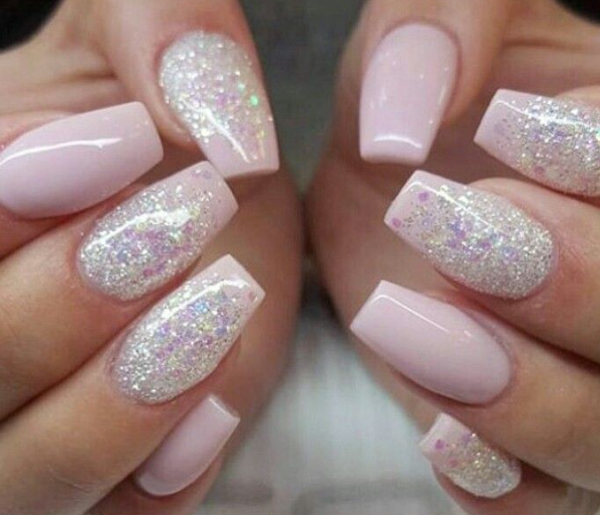 46. White Floral Nails
This delicate and feminine design is created using a range of light pink, purple, and white shades. The nail polish is applied in layers so that the flowers gradually absorb color as it dries.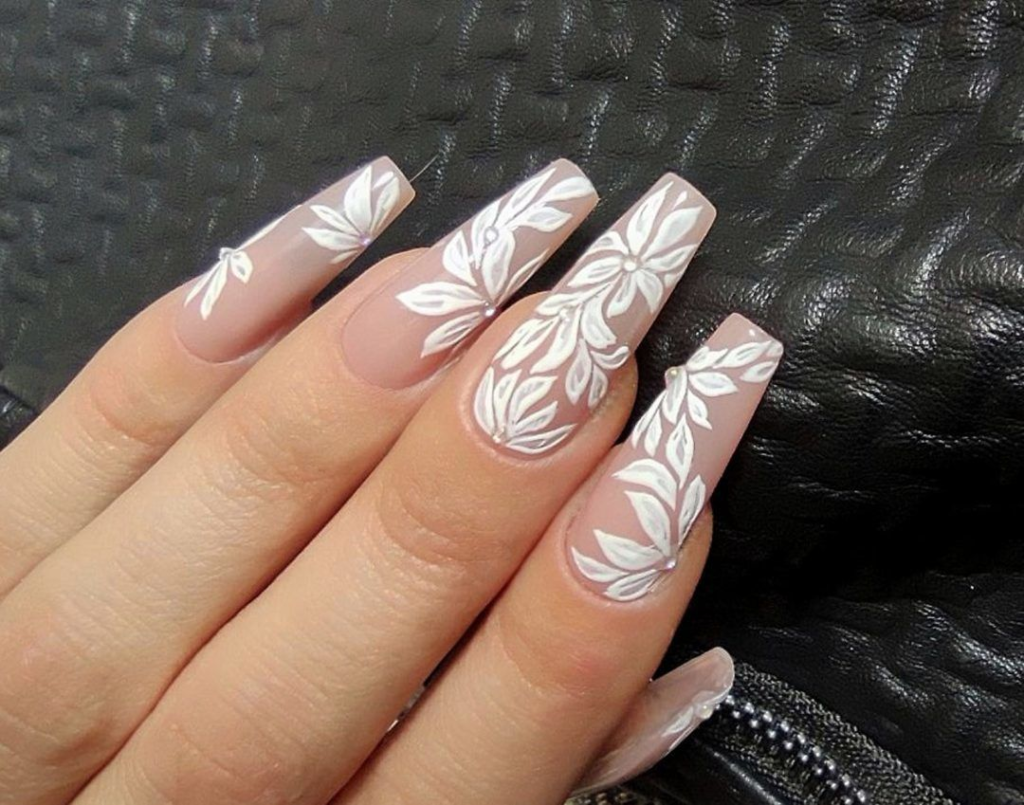 47. Bright & Funky Nails
This funky design uses bright colors to create a cheerful look that would be perfect for summer days! The nail polish is applied in thick layers to stand out from the background – and it can be topped off with some shiny disco balls!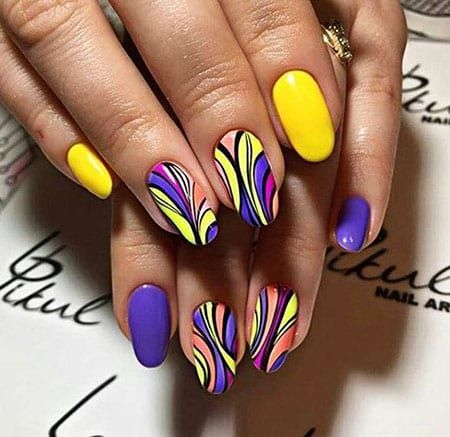 48. White Outline & Transparent French Tips
This exquisite pure white with clear tips and white outlines adds a cool modern twist to a white French manicure. These modern French manis are ideal for weddings, as well as for a variety of events.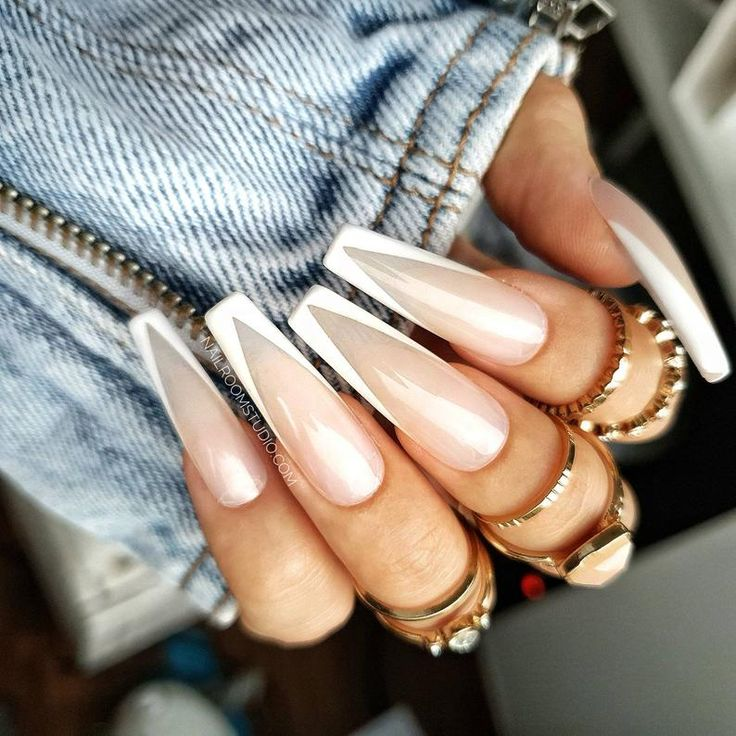 49. Mini Masterpiece
It's like having a contemporary art piece at your fingers with abstract lines and a splash of color.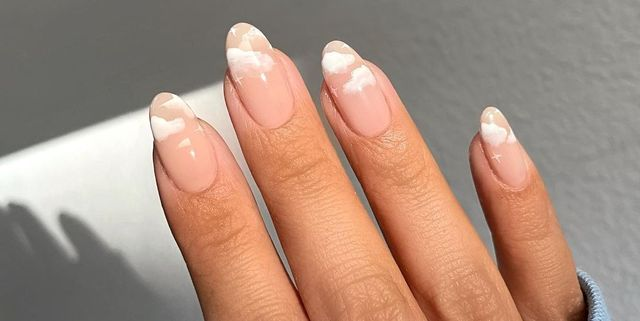 50. Zebra Print
This fun and chic zebra print design are perfect for various events, from formal occasions to days out. The nail polish is applied in layers so that the stripes gradually come into view.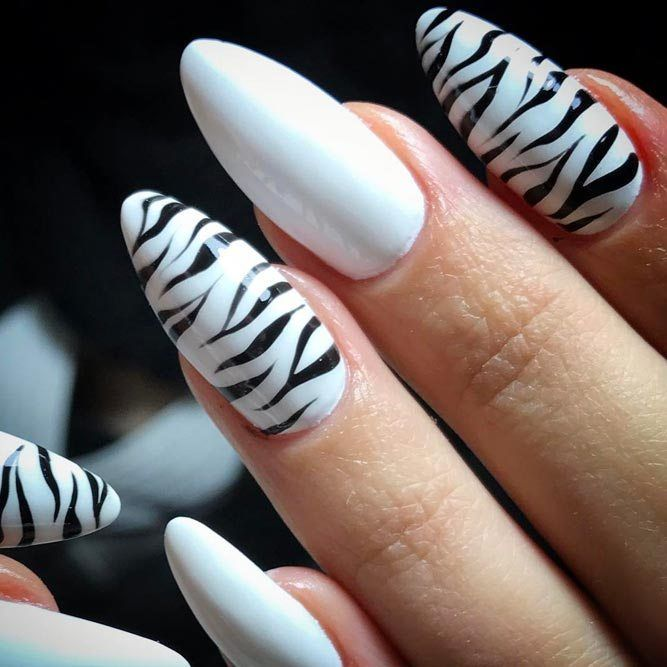 51. Pearl Embellishments
This delicate pearl design is perfect for an elegant and special occasion. The nail polish is applied in layers so that the pearls gradually absorb color as it dries. It brings a 3D effect to the nails and would be a beautiful addition to any outfit.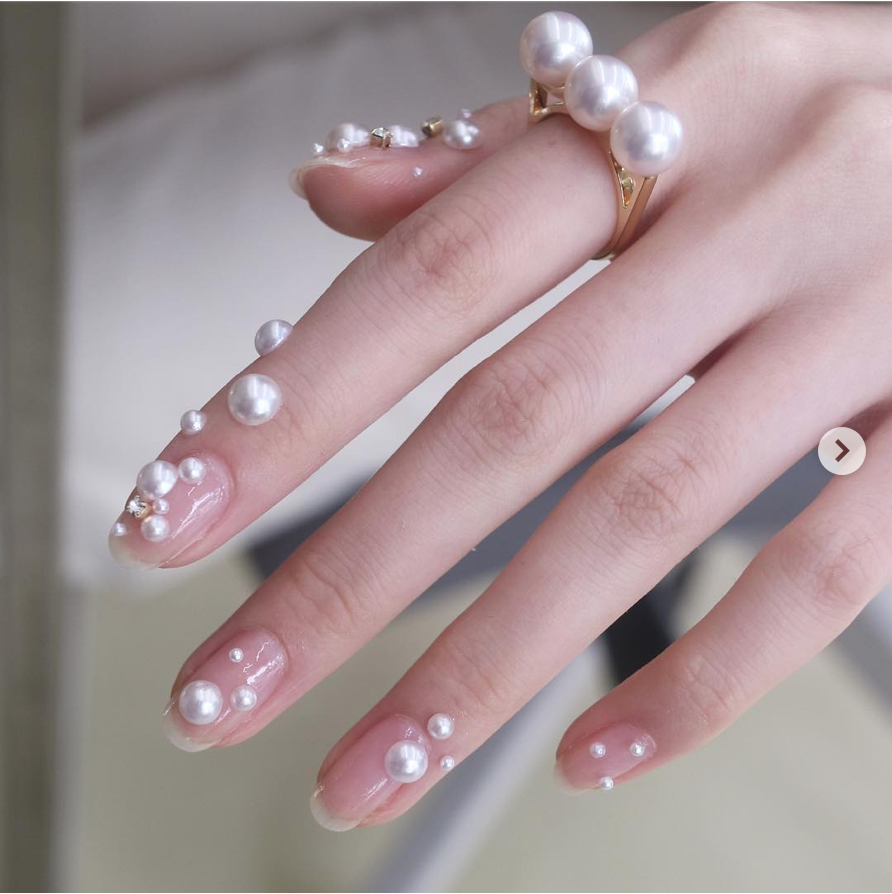 Final Words
What do you think of these white nail designs? We hope you find something that inspires you! Whether you're looking for something simple and understated or want to go all out with a dazzling design, we have some great ideas to help you get started.
So, what is your favorite white nail design? Gossip Girl-inspired nails? A beautiful almond-shaped gem set? Or something more creative and unique, like the photo finish design? Think about all the different ways you could paint your nails and pick one design to start with. Once you have that figured out, take a look at our other nail inspiration articles for more ideas on how to style them and find the perfect shade of polish for you. Thanks for reading!