In this post, we will discuss Business Casual Dress Code. Clothes and dressing up are just the basics of our life as human beings. There are very few such moments where we are not dressed up to some extent.
The level and type of dressing change according to the occasion. You can't be wearing your pyjamas to your sister's wedding after all. Neither can you go to sleep all suited up. Actually, you can, but do you want to?
There is a dress for every time and occasion, including your workplace. Workplaces and offices have different dress codes that everyone has to follow. One such dress code is business casual. So exactly what is the business casual dress code?
The Importance Of Dressing Professionally
Before moving on to the specific dress code, you need to understand why there are dress codes in offices.
The importance of properly dressing in the workplace can not be stated enough. Dressing professionally is not just about looking good; it also plays a significant role in how others perceive you and the impression you leave behind.
Dressing appropriately conveys a sense of respect for the workplace and the people around you.
It shows that you take your job seriously and care enough to show that you are sincere. It translates to not just your co-workers but the higher-ups as well. You don't need us to tell you how important it is to have a good image with the people in positions in the working industry.
There is not one universal dress code. Every office has its own code, but you'd find some basic dress codes in a professional line.
What Is Business Casual Dress Code?
Business casual dress code is used in workplaces to allow for a dressing style less formal than traditional business attire yet still maintains a professional appearance. It is a balance between the strict formality of business suits and the casualness of everyday attire. Business casual is to create a comfortable and relaxed work environment while maintaining professionalism. Some businesses have adopted the policy of semi-casual attires, about which you can read here.
Employees have more flexibility and freedom in choosing their outfits in a business casual setting. However, this does not mean you can wear jeans and a T-shirt. The "Business" part still demands some professionalism and discipline in clothing.
Business Casual is a more relaxed and less rigid approach to dressing while adhering to certain guidelines. It's all about striking a balance between comfort and professionalism.
Business Casual Dress Code For Men
There are a lot of business casual outfits to choose from for men.
Let's start with shirts. You can opt for collared shirts such as button-downs, dress shirts, or polo shirts in a business casual setting. T-shirts and overly casual shirts with patterns or graphics are generally not appropriate.
Moving on to pants, you have more flexibility than in a formal setting. While jeans are typically not business casual, you can opt for khakis, chinos, or dress pants. Avoid shorts, cargo pants, and overly baggy or torn trousers.
There are plenty of shoe options in business casual. You can wear loafers, oxford shoes, or clean, polished leather sneakers. Just remember to steer clear of sports shoes, sandals, or flip-flops.
Now, let's talk about jackets and blazers. While a full suit is not required, you can incorporate a blazer or coat.
And finally, the accessories. Remember to keep your accessories minimal and low-key. Avoid flashy or oversized accessories that draw too much attention.
Business Casual Dress Code For Women
Women get a lot of options for business casual outfits as well.
Starting off with tops, blouses, button-down shirts, and sweaters are great choices for business casual attire. Opt for well-fitted tops in solid colors or subtle designs. Avoid tops that are too revealing or casual, such as tank tops, crop tops, or t-shirts with bold graphics.
There is a wide range of options when it comes to bottoms. You can choose from dress pants, khakis, chinos, or skirts. Ensure that the length of skirts or dresses falls within a professional range, typically around knee length.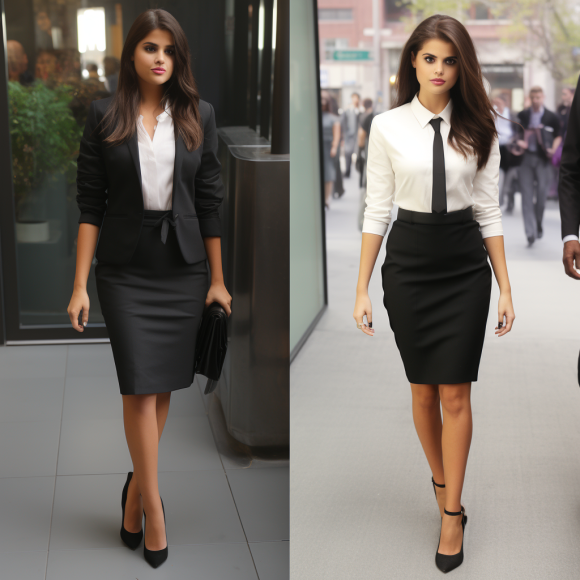 Women have a variety of shoe options for business casual outfits. Go for closed-toe shoes such as pumps, loafers, or dressy flats. Avoid overly casual footwear like sneakers, flip-flops, or casual sandals.
Again, when it comes to accessories, it is important to keep it minimal. You can wear a regular necklace, simple earrings, or a classic watch to accessorize yourself without looking out of place.
What To Avoid In Business Casual Outfits?
While business casual attire allows for more flexibility and freedom compared to formal business attire, there are still certain things you'd want to avoid.
Wearing overly casual or revealing outfits.
Unclean clothes or dresses that don't properly fit.
Sports shoes and flip-flops.
Excessive accessories and jewelry.
It is also important to stay groomed and clean. Use mild fragrances and perfumes to smell nice as well. Avoid fragrances that are too strong or unpleasant.
Other Types Of Dress Codes For Business
Other than business casual, 4 general office dress codes are followed everywhere. Different places have different guidelines and rules, but the overall definitions stay the same.
Business Formal
This dress code is typically seen in elite corporate environments, high-level meetings, and formal events. It requires a sophisticated look with no compromises. Men are expected to wear tailored suits with dress shirts, ties, and formal shoes. Women opt for formal suits, dresses, or tailored separates paired with closed-toe shoes and minimal accessories.
Business Professional
This dress code is slightly less formal than business formal but maintains a professional appearance. It leaves some space for choices and freedom with colors and more. Men can wear tailored suits or blazers with dress pants, dress shirts, and dress shoes. Women can choose between tailored pantsuits, knee-length skirts with blouses, or conservative dresses paired with closed-toe shoes.
Smart Casual
Smart casual is a step down from business casual, allowing for more personal style and creativity. Men can wear dress pants or chinos with a collared shirt, blazer, sweater, loafers, or dress shoes. Women have more freedom to express themselves, opting for skirts, dresses, dress pants, or stylish jeans, paired with blouses, sweaters, or fashionable tops. Shoes can range from flats to heels or stylish boots. There is a lot of freedom for colors and style.
Casual
Some workplaces, particularly those with a more relaxed environment, may adopt a casual dress code. However, it's important to note that casual doesn't mean sloppy or unbothered. It is a must always to dress up well and clean. Men can wear well-fitted jeans or chinos with a casual shirt or polo shirt and comfortable shoes like loafers or clean sneakers. Women can choose casual dresses, skirts, or pants with tops and pair them with stylish sandals or sneakers.
Frequently Asked Questions on Business Casual Dress Code?
How strict is the business casual dress code?
The strictness of the business casual dress code varies depending on the company and industry. Business casual allows for more flexibility and comfort compared to traditional business attire. While it allows some freedom, it's still important to maintain a professional appearance.
What can men wear in the business casual dress code?
Men have several options when it comes to business casual attire. They can wear slacks or chinos paired with a collared shirt, such as a button-down or a polo shirt. Sweaters or cardigans can be added for a more polished look. Ties are typically optional, and jackets or blazers can be worn as well.
What can women wear in the business casual dress code?
Women have more flexibility in their choices for business casual attire. They can wear dress pants, skirts, or dresses that are not overly formal or too revealing. Blouses, tops, or sweaters can be paired with these bottoms.
Can I wear jewelry for business casual?
Yes, wearing jewelry is generally acceptable in a business casual dress code. However, it's important to avoid excessive or flashy pieces and keep them low-key. Simple earrings, necklaces, bracelets, or watches will always work.
Can I wear jeans in the business casual dress code?
Generally, jeans are not accepted as a part of a business casual dress code. It might vary from company to company, however. Hence, it's better to consult someone in your company regarding the dress code guidelines just to be sure.
What other dress codes are there in the professional field?
There are 4 more dress codes other than business casual. They are; Business Formal, Business Professional, Smart Casual, and Casual.
Final Words
Dress codes are important for more than just one reason. First of all, a dress code ensures nobody feels out of place. It also creates a cohesive look for a united organization. And so on. It is always important to follow the dress code in your workplace to show your sincerity and discipline. But to follow it, you obviously first need to understand it completely. So, if your office wants you to dress up in business casual, this guide here would have surely helped you understand it better.